New Boarders Profile: Eleven Is A New One
This year Harker Hall welcomed 38 new boarders, eight of which are incoming Grade 11's, to the Saints community. Ms. Tanya Peters, a language teacher in school and a house parent working in Harker Hall, stressed that "the boarding program is designed to introduce new students to each other and also introduce them to the city of Vancouver. The goal is to get students involved in the activities so that they are a part of the community." The Creed invited three eleventh-grade new boarders to share their stories, thoughts on Saints, and boarding experience with us.
Andy Chen
Andy was from Shanghai, China. He moved to West Vancouver two years ago and attended a public school. "I thought that was not the school for me. I come to Saints because I always want to go to a private school," he said. He strongly felt that "Saints focuses on every single boy. In my previous school, I couldn't develop my hobbies and interests because there was no support. Here at Saints I already got a chance to do some video editing for teachers."
He went on to talk about the benefits of being a boarding student. "I come to boarding because I know there will be a lot of activities on the weekends. There will be a lot of opportunities for me to make new friends. Because we have this diversity [of students] in the boarding house, we can learn about different cultures and lifestyles."
Carson Feser
Coming from Squamish, Carson described his previous school and commented on Saints. "That school was new and I was there from the start. It had some good ideas at the beginning, but it failed to show those ideas. I was looking for a different school. St. George's has a boarding program, and I got a scholarship, so I decided to board. I really enjoyed the school; it hasn't let me down yet. The boarding house feels like a big community. We're all part of the same house. We live under the same roof. Everyone does everything together."
Touching on his challenges in Grade 11, he admitted that "[the school] is challenging but not forcing me to my absolute limit." He pledged to keep up his academic strengths and work hard on his weaknesses.
Roberto Xavier
Brazilian Roberto was the younger brother of Bernardo, who attended Saints a few years ago. He came to Saints because his brother spoke highly of the school. He added that "the more I looked into the school, the more I liked it. My first impression of the school – an all-boys school – excited me. Now I'm here at Saints and Harker Hall to experience how great that is. Saints is an excellent school in terms of academics and arts, and students succeed in these areas."
When it came to academics, Roberto had decided to take a less stressful approach. "Everyone has been telling me how Grade 11's gonna be really tough. Right now I'm not taking very rigorous courses. I don't want to bite off more than I can chew. I will have more time to commit to the stuff that I actually like and establish myself in school."
Leave a Comment
About the Contributor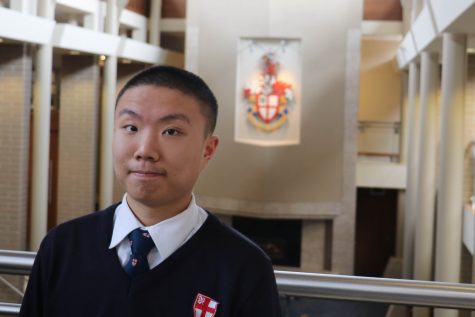 Tommy Kuo, Co-Editor in Chief
A twelfth-grader in St. George's School, Tommy Kuo landed in Vancouver, Canada last year with "a mixture of anticipation and apprehension." In school,...