From Farmhouse Attic to Harker Hall: The History of the Boarding Program
There are many things that make St. George's School unique. The fact it's an all-boys school, our location, the fact that we clap when someone breaks a plate during lunch are just some examples of the school's character. One of its most unique aspects is definitely the boarding program. This has been a part of Saints culture since its founding in 1930. However, not much is very known about it. Why exactly does it exist and how has it changed throughout the years?
St. George's early years
St. George's School was officially opened in 1930 by our first headmaster, Captain Danby-Hunter. Before that, Captain Hunter had been in Mandalay in Myanmar where he worked at a school called St. Mary's High School. After arriving in Vancouver in May 1930, Captain Hunter worked with a businessman, E.O.F Ames, to make his dream become a reality: start a private day and boarding school for boys in Vancouver. At the time, there was only one boy's preparatory school in Vancouver called Trinity House. After receiving some legal and financial help, and creating a board of directors, St. George's was founded. The first school building was located at 3854 West 29th Avenue in an old farmhouse (known as the Mather Farmhouse) that Captain Hunter had bought along with the land around it. This farmhouse would be St. George's School for the next 50 years.
The old farmhouse was eventually transformed into a schoolhouse complete with classrooms, dining, and boarding spaces alike. At that time, there were only about 40 boarders. All of the boarders lived in the dormitory attic. 20 lived in the attic, the rest lived two floors below. Due to it being a small farmhouse, space was limited, so the boarder's possessions were all required to fit into one small tin box. At the time, St. George's was a very religious school, and boarders were required to say their prayers every night before they went to bed. Bachee Parker-Jervis, a boarder back in the 1930s remembered that "Pillow fights were a constant source of wild pleasure for the boys and an annoyance for the staff living below, and were invariably followed by swift retribution in the form of a swat across the backside with the cane." Boarding houses at the time were meant to discipline badly behaved children and harsh punishments were the common amongst preparatory schools.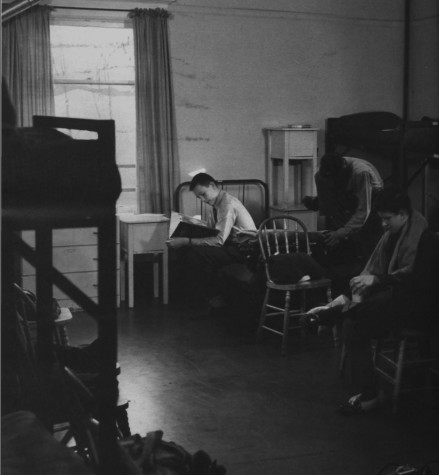 At the time, the typical senior boarding tuition was only $655 whereas nowadays, it's around $50,000. Boarders consisted of people from Grades 1-12. In the late 1930, John Harker (the school's second headmaster) realized that boarders were not engaged enough in the school community, and began the clubs programme which continues to this day.
Boarders leave the schoolhouse
As the years went by, more and more students began to enroll in St. George's. In 1936, St. George's purchased the first of seven-dormitory houses with the last one being bought in 1973. These houses were located on West 29th and West 30th Avenue (known as block 60) and offered "family style" quarters under the guidance of a live-in master (teacher) and their family. These seven houses were named after prominent Georgians: Messrs, Maitland, Sweeny, Parker, Hudson, Hunter, and Pringle. Groups of boarders lived in each of these houses and they were essentially family. The Senior School that we know today was completed in 1965.
Due to zoning privileges, the relationship between St. George's and the Dunbar community began to degrade, especially with boarders living in houses outside of school property. In 1969, the Dunbar Homeowners' Association was displeased with boarders living in homes outside school property as it lowered surrounding property values. The zoning board chairman at the time, Tom McDonald (1969), stated, "While you've done a good job for your students, you've neglected public relations with your neighbours and with the city. It's now up to the school to do a good job and win the support its neighbours." This was a major issue facing headmaster Alan Brown until 1978.
The Great Move of 1980
At 1978, The Convent of the Sacred Heart (now the Junior School), a girls day and boarding school went on sale, which St. George's purchased for $2,050,000 along with the 9.5 acres of land around it. After two years of renovations in 1980, the old school building was finally demolished and Block 60 was sold. Then came the time known as "The Great Move" where everything had to be relocated from the old schoolhouse to the Covenant. Boarders were relocated to the top floor of the covenant where there were already existing dorms.
The creation of Harker Hall
After the San-Fransisco earthquake in 1989, parents started demanding that school buildings be "Earthquake proofed" in order to avoid danger to the students. Thus, began one of the biggest fundraisers in St. George's history. In the end, the school raised over $13 million dollars. This was enough money to upgrade the senior school twice, build a second gym in the Junior school, create the Grad Lounge in the senior school, and construct a brand-new boarding facility, known today as Harker Hall.
In November 1993, Harker Hall was finally completed and the boarders began to move into the new facility. Harker Hall at the time was nicknamed "Hotel St. George's" and had new things like drinkable tap water, private showers, and wallpaper that is more appealing to the eye. Harker Hall emphasised community and St. George's became more international with students coming in from all over the world. In 2008, boarders consisted of students from Grade 8-12 instead of starting from 6. Boarding was treated as less of a punishment, and more like as a home away from home instead.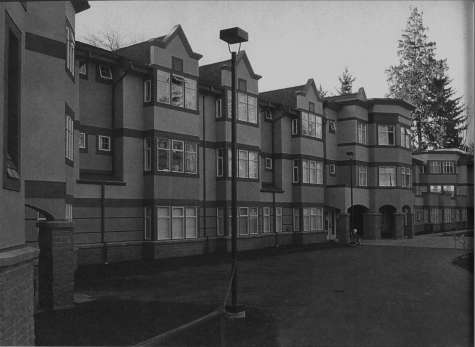 Understanding Harker Hall
From an interview with the Director of Admissions, Mr. Reto Camenzind, it's interesting to understand how admissions interviews differ from day student interviews. Living in Harker Hall is about being in a tight community, so we are interested to know how students feel about sharing their space, having a roommate, how committed they are to being impactful members of the Harker Hall community. We also talked about the challenges that might arise from being away from home, especially homesickness, and what they anticipate can be done supportthem in Harker Hall through St. George's. Ms. Emily Moir, Director of Admissions in the Junior School and Harker Hall house parent also expands on the importance of community and adaptability. "We are very much a community in boarding. So, we are looking for students and boarding applicants who are able to integrate easily into our community, participate in what we offer, and grow within what we have." (Check out my full interview with Ms. Moir below!)
From this, we can see the importance of community in Harker Hall and how much it differs from the past in which boarding was a disciplinary punishment.
I also got an opportunity to interview the Director of Residential Life, Mr. Alan Hesketh, in order to understand his stance on the significance of boarding in St. George's. "I think there are a few answers there, the first one is that it allows a wide range of students to be able to attend our school so students who live in other countries… so they are able to attend this school and have that type of experience. On top of that, we believe that there is a lot of value for all of our students through interacting and spending time with students who come from different parts of the world from different countries. Both sides are we see as key advantages and reasons why we have our boarding program." (Check out the full interview with Mr. Hesketh below!)
Future of the Boarding Program
As of writing this article, St. George's is working on their master plan on the Senior School and it also involves relocating the boarding house closer to the school campus. Although this is another major change in the history of the boarding program, it would be beneficial to look back to the past of how both St. George's and its boarding program grew up together and how it became what it is today. I hope this article delivers a better understanding of how the boarding program grew and its significance and the major part it plays, in the long history of St George's.
Leave a Comment
About the Contributor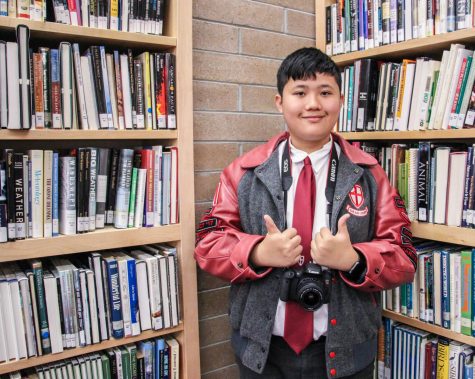 Christopher Ma, Head of Media
Christopher is currently a Grade 12 student from Hong Kong who came to Canada as a boarder in Grade 9. In his spare time, Chris enjoys reading, taking...