Out of the Furnace: Review
This movie is rated R — Restricted. Children Under 17 Require Accompanying Parent or Adult Guardian
The movie Out of the Furnace is a must watch, directed by Scott Cooper. Not only does the movie feature big time names such as Christian Bale, it also symbolizes the fact that family is more important than anything in life, and will always be there for you.
It begins with Harlan DeGroat (Woody Harrelson) at a drive in movie cinema, trying to forcefully shove a hotdog down a woman's throat. It is a dark and disturbing opening scene that will send shivers down you're spine. It is almost as if the opening scene is foreshadowing for what is about to come.
The movie is about Russell Baze (Christian Bale), and his brother Rodney Baze Jr. (Casey Affleck). It is identified in the beginning of the movie that the two brothers have economical issues, as Russell catches his brother Rodney at a horse racing show where Rodney had just bet on a horse that ended up losing. Russell asks his brother where he got the money. Rodney replies saying that John Petty (Dafoe) loaned it to him. Russell then visits Petty at the bar. He then leaves the bar intoxicated, not thinking about the worst possible outcome. He hits a car, killing the passengers inside, including a small child. While in prison Russell figures out that his sick father had passed away, and that his girlfriend Lena has left him for someone else.
The first few minutes of the movie really set the marker. Not only has Russell committed the biggest mistake of his life, the two people he loved most has left him. I had never felt such emotion for a character before, it almost seemed as if I was actually in the same shoes as Russell.
Rodney is then found in a backwoods-fighting ring and proceeds to win. This boosts his confidence and his desire for money, as he demands Petty to call New Jersey and set up a high stakes fight. However, the man Rodney is setting up a fight with turns out to be the same man from the opening scene at the drive in movie cinema, DeGroat. Russell does not like the fact this his brother is fighting for money.
On the drive home after the fight, Petty and Rodney are ambushed by DeGroat and his gang. DeGroat murders Petty in the car, and ends up carrying Rodney out of the car and into the woods, where he murders him too. The entire movie is then revolved around Russell trying to seek justice and find his brother as well as whoever has him (he does not know Rodney has been murdered.)
In my opinion, Out of the Furnace was a heartbreaking film. It shows what people will do for money, even if it is risking their lives. It also shows that no matter what happens to you in you're life, family will always be there for support.
Rating: 9/10
Leave a Comment
About the Contributor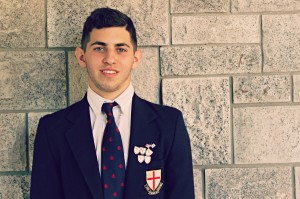 Jayden Bloom, Video Editer
Jayden is currently a Grade 11 student at St. George's and is a Staff Writer for The Creed. His interests mainly lie in Athletics, but also Music. Jayden...