Rigg Scholars of 2015: T.K. Nah
VANCOUVER – T.K. Nah, a Grade 11 student at St. George's School, recently received the prestigious Rigg Scholarship, an award for only a select few of the school's outstanding fine arts students. Regarding his application, T.K. had to play a five-minute piece before Mr. Dean Markel and Mr. Marko Rnic, his music instructors at the school. Fourteen musicians of the Class of 2015 applied for the Rigg Scholarship, but only David Cheng, Louis Wei, Alan Wong, and TK himself received the recognition.
"I started playing the clarinet in Grade 5 back in Korea. However, I did not focus much time and effort into the instrument," remarked T.K. "In Grade 8, I gained confidence and applied for my first music award at St. George's. In the end, I didn't get the results I wanted at that time and ultimately lost the award. I was devastated and I used that experience to motivate myself. My ultimate goal at that time was to obtain the Rigg Scholarship"
Today, T.K. is now the recipient of numerous music awards, including the Rigg Scholarship, and a member of the Wind Ensemble, Senior Band, and the Vancouver Youth Symphony Orchestra (VYSO). He has plans of joining ensembles in his college years and continuing his practice of the clarinet for the rest of his life. "I know I won't give [clarinet] up ever. Not after all the work I have put into it."
When asked for particular advice to give to hopeful Rigg recipients, T.K. said, "Just try to practice every day, whether that means an hour, half-an-hour, fifteen minutes, or even a minute. Just keep practicing and don't be afraid to be great."
The Creed and the St. George's School community congratulates and recognizes T.K. for his work ethic, determination, and contributions made in the fine arts at the school.
Leave a Comment
About the Contributor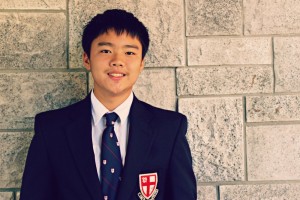 David Yang, Student Life Editor
David is a Grade 10 student at St. George's School. Though originally born in Shanghai, he moved to Canada at the age of five. As a 10th grader in his...