Saints' Players relaunch the season with "The Man Who Came to Dinner"
The Saints' Players Theatre ran the outrageous play, "The Man Who Came to Dinner", from November 6 to November 9. The play featured a cast of over 60 actors and actresses assisted by 30 crew members. It presents students from Grade 10 – 12 originating from six different schools. As well, there were numerous grade 1's from the Saint's Junior School who played a small part. The plot features the characters having "hilarious misunderstandings and zany schemes", according to the director of the play, Mr. Luke Fredemen.
The play depicts the Mid-Western Stanley family as it attempts to deal with the unlucky-spelling Mr. Sheridan Whiteside, played by Alastair Pitts in Grade 12, who injures his hip and is incapacitated in their home. The all-American house is radically overtaken by the supreme values and ramifications Mr. Whiteside brings with him. Mr. Whiteside is a charming handsome rich man with many connections to famous people all around the world.
The theatrical work follows the interactions of Mr. Whiteside with the entire family, from the tense and edgy Miss Preen to the high and energetic Banjo. The reactions to Mr Whiteside's thunderous commands, or insults, are very mixed. When the family is pushed to their already tolerating limits, they attempt to force Mr. Whiteside out of the house through force. Astonishingly, Mr. Whiteside defies this threat and exits the house on his own terms. However, when he does, he once again suffers an injury. All the while, Mr. Whiteside's assistant, Maggie, has fallen in love with a local newspaper boy. Mr. Whiteside constantly tries to break this relation ship apart using his wit and creativeness. However, when he realizes that Maggie is truly in love, he undoes his cunning deeds and respects her decision.
Viewers who attended the Saturday showing were also treated to a cameo performance by Headmaster Dr. Tom Matthews. Principal Mr. Shawn Lawrence, Mr. Luke Fredemen himself, as well as many other teachers. This play was a fantastic laugh that could keep anyone on the front half of their seat for the whole three hours. It was clear the near 100-man effort put into the work was very evident.
Leave a Comment
About the Contributors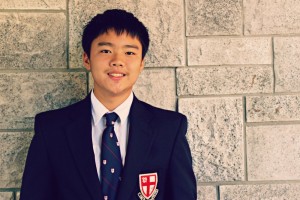 David Yang, Student Life Editor
David is a Grade 10 student at St. George's School. Though originally born in Shanghai, he moved to Canada at the age of five. As a 10th grader in his...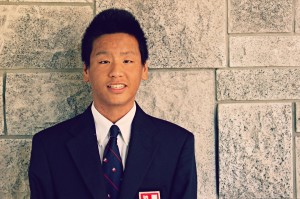 George Lin, Co-Sports Editor
George is currently a Grade 10 student at St. George's School. He is has been attending saints for the past 8 years and is loving every moment of it. This...