Anvil Island: A Revised Experience
Shortly after the school year began in early September, the students of Harker Hall spent their first weekend at Anvil Island. The Anvil Island weekend is an annual retreat for all St. George's School boarders, and it offers students the opportunity to develop new friendships while strengthening old ones.
Anvil Island is a relatively large island north off the coast of Metro Vancouver, about half an hour by boat from Horseshoe Bay. Various facilities on the island allow for team-building activities, entertainment and accommodation.
Amid concerns that the trip felt a bit repetitive for returning boarders, Mr. Hesketh, Director of Residential Life, made some slight adjustments to the trip to give it a breath of fresh air. New activities such as the Grade 11 Race and Wireframe Project were introduced, while established ones such as Geocaching were improved.
Ms. Rossnagel, an art teacher and house parent at Harker Hall, organised one of the new activities: the Grade 11 Wireframe art project. The aim of this activity was to "bring people together" and "express who they were". Although she expected the students to make sculptures of their physical selves, she was "pleasantly surprised" to see students making objects that represented themselves symbolically. Similar to the reason for other new activities, the Wireframe Art Project was introduced so the Anvil Island experience would "stay fresh", and Ms. Rossnagel hopes to build on this year's success by leading a similar project for next year's Grade 11s.
Another addition to the Anvil Island trip was the official Welcoming Ceremony, where new students (and faculty) were introduced to their houses (which will be used for various competitions and activities throughout the year). Everyone was grouped into four houses: Maitland (red), Sweeney (yellow), Hunter (green), and Robinson (blue). Each new student was given a house shirt corresponding to their house.
Along with a host of new events such as the well received Grade 11 Race, many established activities such as Escape (a Harker Hall favourite) and Stones received a welcome refresh. While Escape has always been a night-time stealth based game in which students search for a lantern and staff members with powerful flashlights try and catch them, Stones is another game in which the four aforementioned houses compete against one another to steal as many "stones" (i.e. pool noodles and bits of Styrofoam) from each other as possible.
We interviewed a few students so they could express their thoughts on the revised Anvil Island trip. Although they had minor suggestions for improvement, their feedback was mostly positive.
Chris Ma, a returning Grade 10 boarder, was pleased to see that there were more activities exercising teamwork and leadership compared to those of last year, and explained that the changes made it "better for people who didn't know each other to work together". Overall, he welcomed the changes, stating that while some activities such as Escape were a bit too challenging, others such as Stones became more enjoyable because they were more team-based.
Roddy Chan, a new Grade 10 boarder, also enjoyed Stones because of its competitiveness and team spirit. He later said that he found the trip "genuinely useful" since it helped him settle in and quickly find a "sense of belonging" with his house and the extended Harker Hall community. However, he did wish that for next time, the experience was "more structured, but still fun".
Overall, students welcomed the changes, with several describing it as "fresh", "improved" and "involving". As the Anvil Island experience continues to improve, feedback from students will be a key part in ensuring the success and development of the program.
Leave a Comment
About the Contributor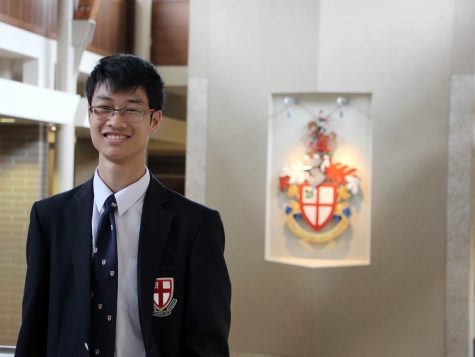 Trevor Li, Editor, Layout
Trevor is a Grade 11 student who joined Saints as a boarder in Grade 8. He has a strong interest in technology and design, and is a member of various technical...