Les Misérables: Gearing Up for a Victorian Era Adventure
"There is something more terrible than a hell of suffering—a hell of boredom."
– Victor Hugo, Les Misérables
There is no excuse for boredom at Saints because on November 6th the cast of Saints Players, "Les Misérables" will be transporting you to Victorian era France for a musical adventure full of convicts, damsels, and gluttons.
This year's production of "Les Mis" features a cast of talent and bravado that will surely set the bar high for future St. George's musicals. In the past, "Les Misérables" has come in the form of a Broadway play and a critically acclaimed movie starring the likes of Hugh Jackman, Russel Crowe, and Anne Hathaway.  Over the past few months, St. George's has been crafting its own star cast who are extremely excited to present to you their own iteration of this classic. When asked about the rehearsal environment, Grade 10 student, Dalton Townsend, replied with, "Les Mis is like a community, we're a family. During breaks we're all singing and dancing around and just enjoying our time."
Over the next few weeks, Saints Players will be creating a set that will bring alive the brightest streets and darkest corners of France. Along with the set building team, St. George's also has a fantastic lighting crew that in past years hasn't failed to provide the correct mood for thrilling or emotional scenes. So, on November 6th, prepare to follow Jean Valjean, Cosette, Fantine and others to 19th century France. This collaborative effort of talent and showmanship should not be missed!
Buy your tickets at: https://tickets.stgeorges.bc.ca/public_sales.php?pid=29
Leave a Comment
About the Writer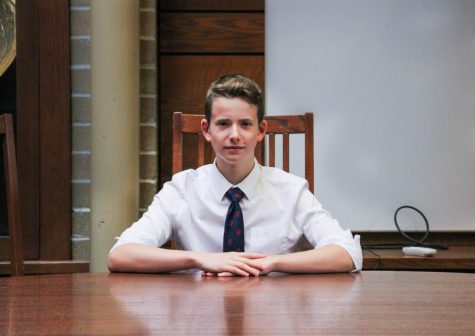 Hayden Jackson, Staff Writer
Hayden is a student at St. George's School in Vancouver, BC. He has been at the school since grade 8 and is enthusiastic about beginning his career as...