Arts Week 2017!
Day 1

Arts Week 2017 at St. George's kicked off with the first assembly and guest speaker of the week: Mike Downie – a documentary filmmaker. Downie has spent the past four years working on an awareness project surrounding the atrocities that took place in Canadian residential schools. During his presentation, he admitted that although he wasn't particularly informed on Canadian Residential Schools until several years ago, he was deeply moved after reading a Maclean's article titled "The Lonely Death of Charlie Wenjack" dating back to 1967. He subsequently told his brother Gord Downie (a celebrated musician) about it, and it motivated them to shed light on Canada's troubled Residential Schools system.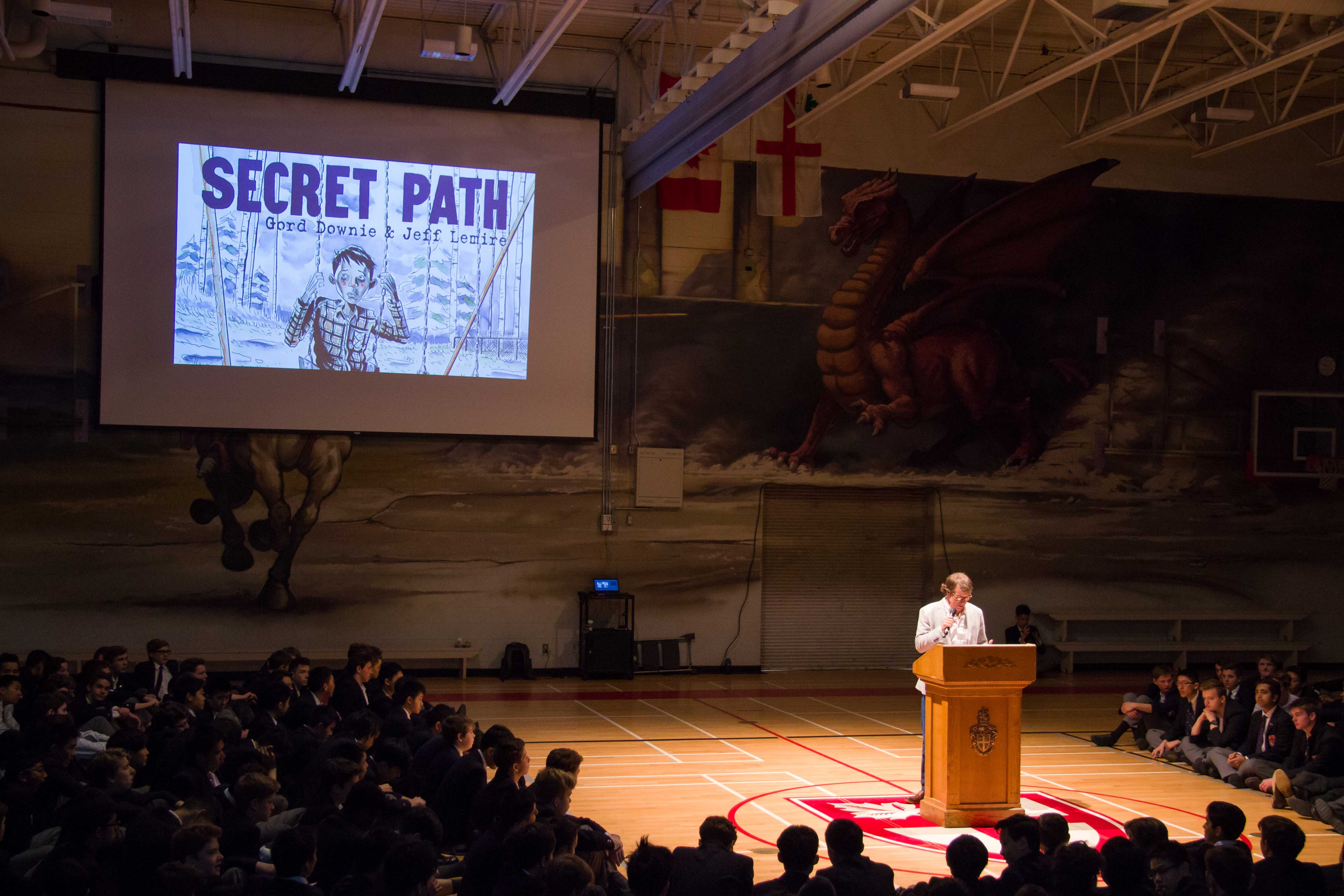 Chanie "Charlie" Wenjack (Charlie being his given name at the Residential school he was placed in) was a 12-year-old boy who taken from his Ojibwe community and forced to attend a Residential School like many other First Nations children. He attempted to escape the school by travelling 600km on foot along a set of train tracks back to the community he was taken from. Unfortunately, as the title denotes, he never completed his journey. The Downie brothers, haunted by this tale, subsequently wrote a series of poems about it. These poems eventually became songs, which they turned into an album titled Secret Path.
The album's success led them the Downie brothers and Chanie's family to perform a musical prayer at WE Day 2016 in Toronto, Ontario. They also founded the Gord Downie & Chanie Wenjack Fund – a charity in which proceeds go towards the National Centre for Truth and Reconciliation.
To learn more about Mike Downie and his work, visit secretpath.ca and cbc.ca/secretpath.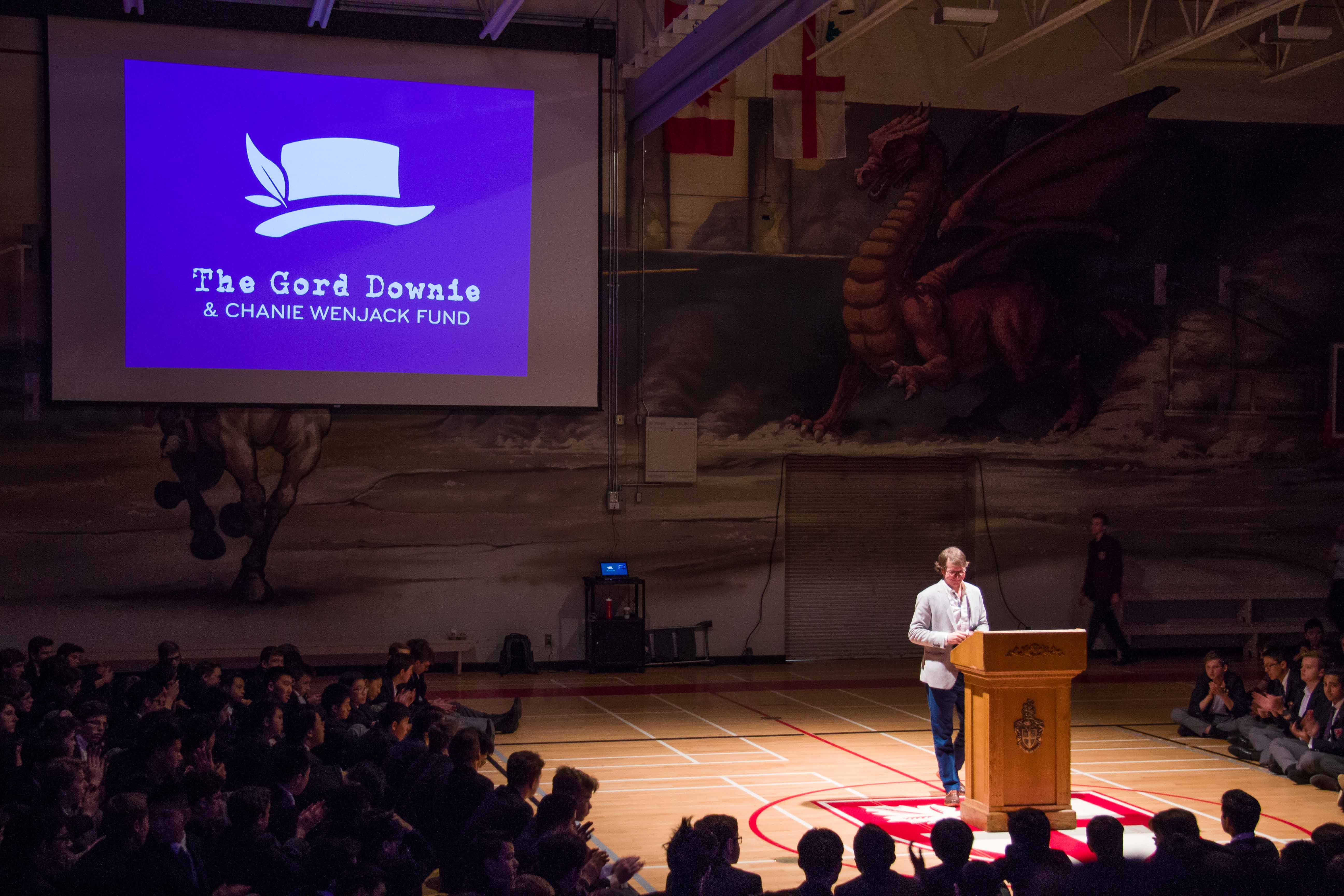 Day 2

Naomi Natale was introduced to the student body as a "photographer" and "activist." However, her presentation demonstrated that she did a lot more than simply campaign and take photos. Her first large-scale first project was named "The Cradle Project," in which more than 550 cradles (for babies) were created and donated to her by artists around the world. The aim was to acknowledge and raise funds for the 48 million orphaned children of sub-Saharan Africa.
However, her second (and largest) project to date (titled "One Million Bones") dwarfs the Cradle Project by comparison. As a "visual protest" against the ongoing genocides within countries such as Burma, Sudan, DR Congo, and Somalia, Natale's vision was to place millions of handmade bones on the National Mall in Washington, D.C. where she hoped her art would raise awareness.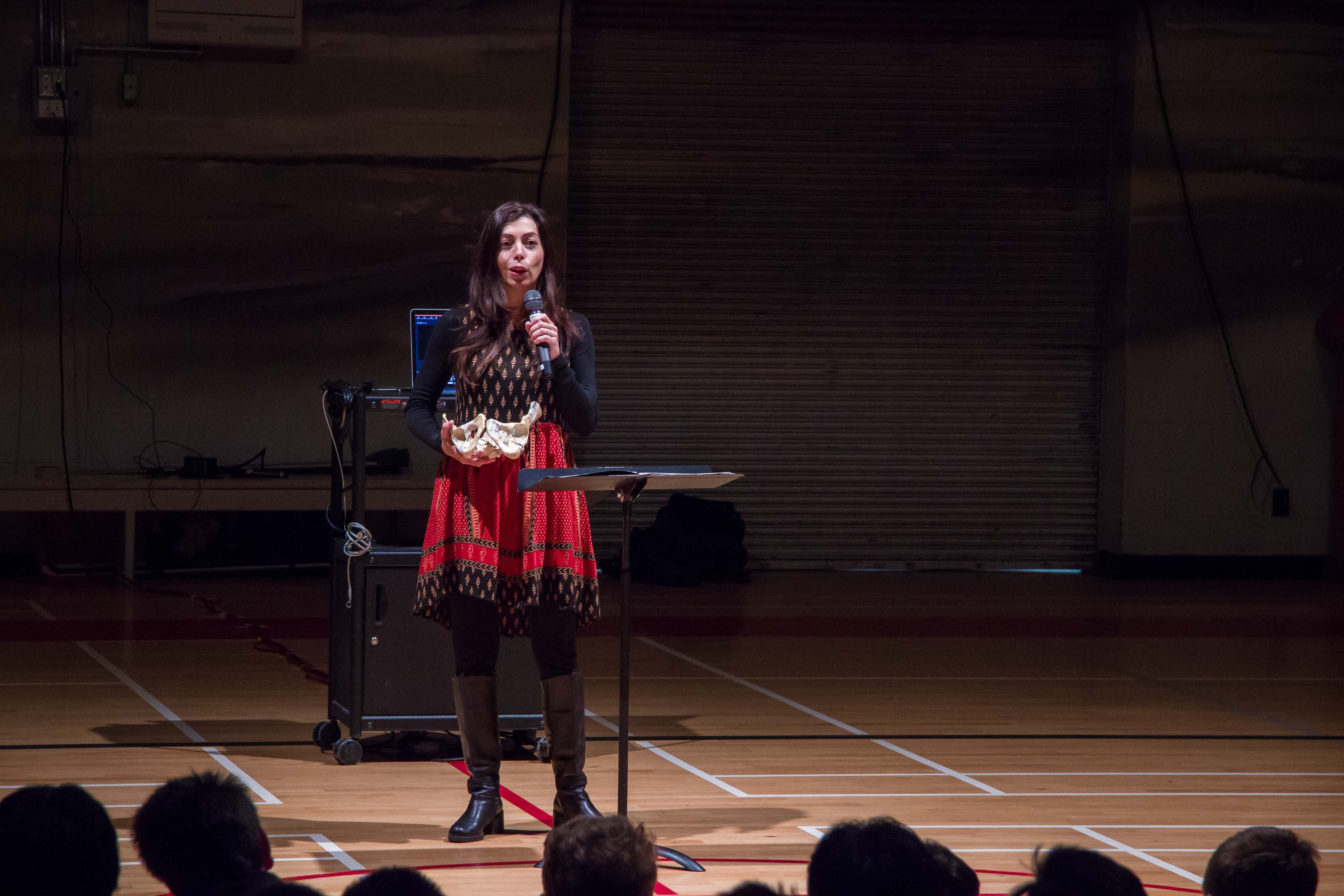 Throughout the project, she toured the U.S. across all 50 states to raise awareness and funds for her vision, and led workshops where students, activists, genocide victims and artists alike could assemble their own bones. The bones themselves were made from clay, wood, and paper mâché. The whole process took several years and Natale recalled her experiences by mentioning how impactful interacting with the genocide victims was for her. One victim who lost her parents to violence emotionally described the process as allowing her finally "pull out the pain."
Finally, on June 8, 2013, all 1,000,000+ bones were shipped and placed on the National Mall in Washington D.C. as a symbolic mass grave, which attracted the attention of legislators and citizens inspired to cause positive change.
To find out more about Naomi Natale and her work, visit http://theartofrevolution.org/.
Day 3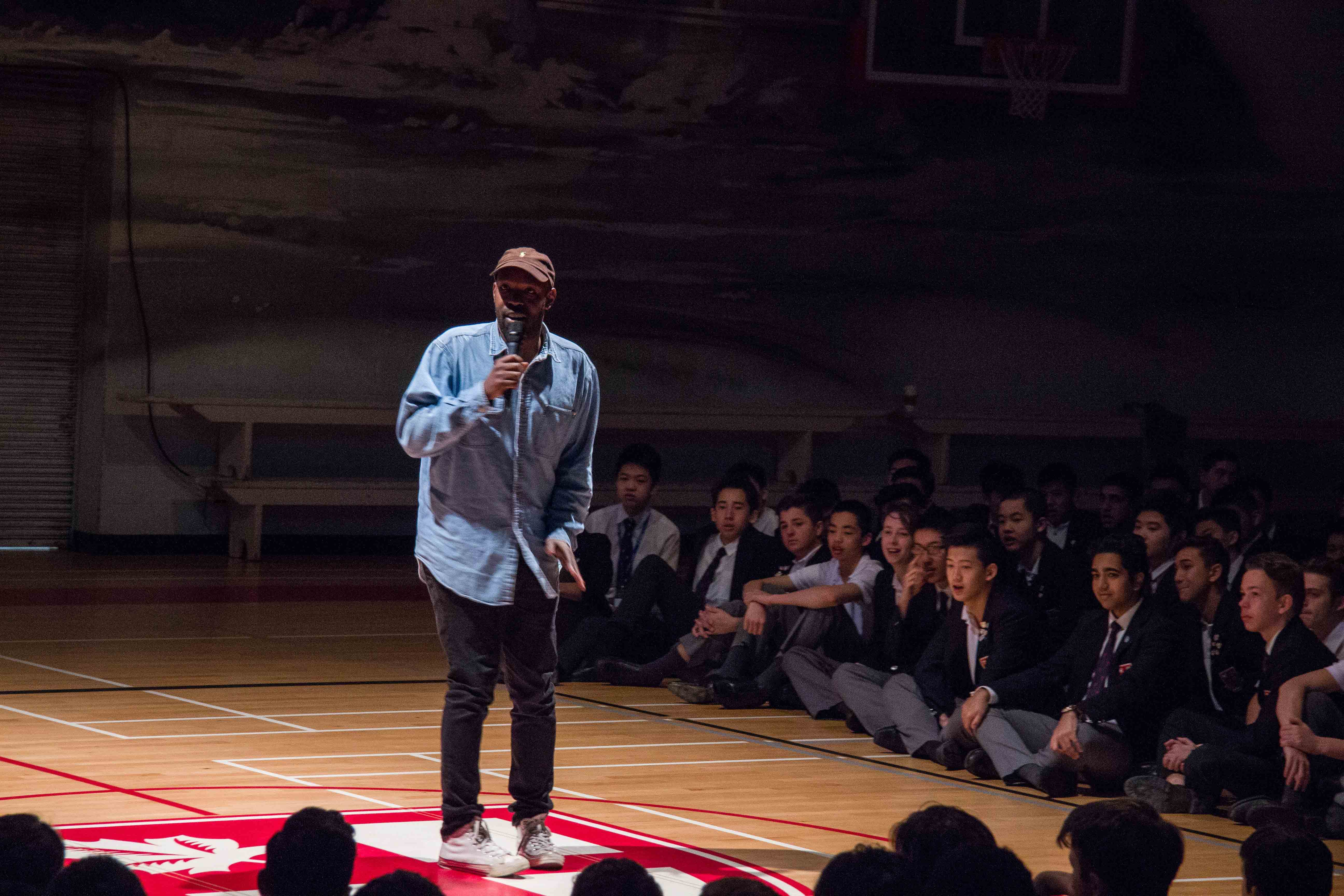 Shad introduced himself as "one of Canada's leading hip-hop artists," and subsequently proved it to the (mostly) groggy Wednesday crowd by "spitting some rhymes." Despite being brief, his rap drew cheers from the audience. During his presentation, Shad discussed the history of rap as well as his past. Despite being born in Kenya to Rwandan parents, Shad grew up in London, Ontario – and the topics of his rap mostly surrounded his childhood and culture. Due to the nature of his music,his lyrics have been praised in the past for being soulful and honest. Andrew Huang, a Grade 11 student, felt that he "[used] his characteristic rhythm to shed light on thought-provoking social issues."
Shad concluded his presentation early to allow time for questions – giving the audience a sizeable amount of time to ask him any questions they had. One particular student asked about his thoughts on current youth who acted "tough" and "thug-like", and Shad responded by stating that he didn't encourage it only because it wasn't truthful. "Kids wear the culture, but they weren't raised in the kind of neighbourhood that those rappers talk about" he explained.
I had the exciting opportunity to attend a post-assembly session with Shad, where he led a workshop and taught students to rhyme and "flow" words that weren't perfect rhymes. He started by breaking down the opening verse of Lose Yourself by Eminem, and talking about how nearly every word rhymed while maintaining a deep meaning. By the end of the hour, the class (which had been split into groups) had made their own short raps, which they performed to their peers.
Day 4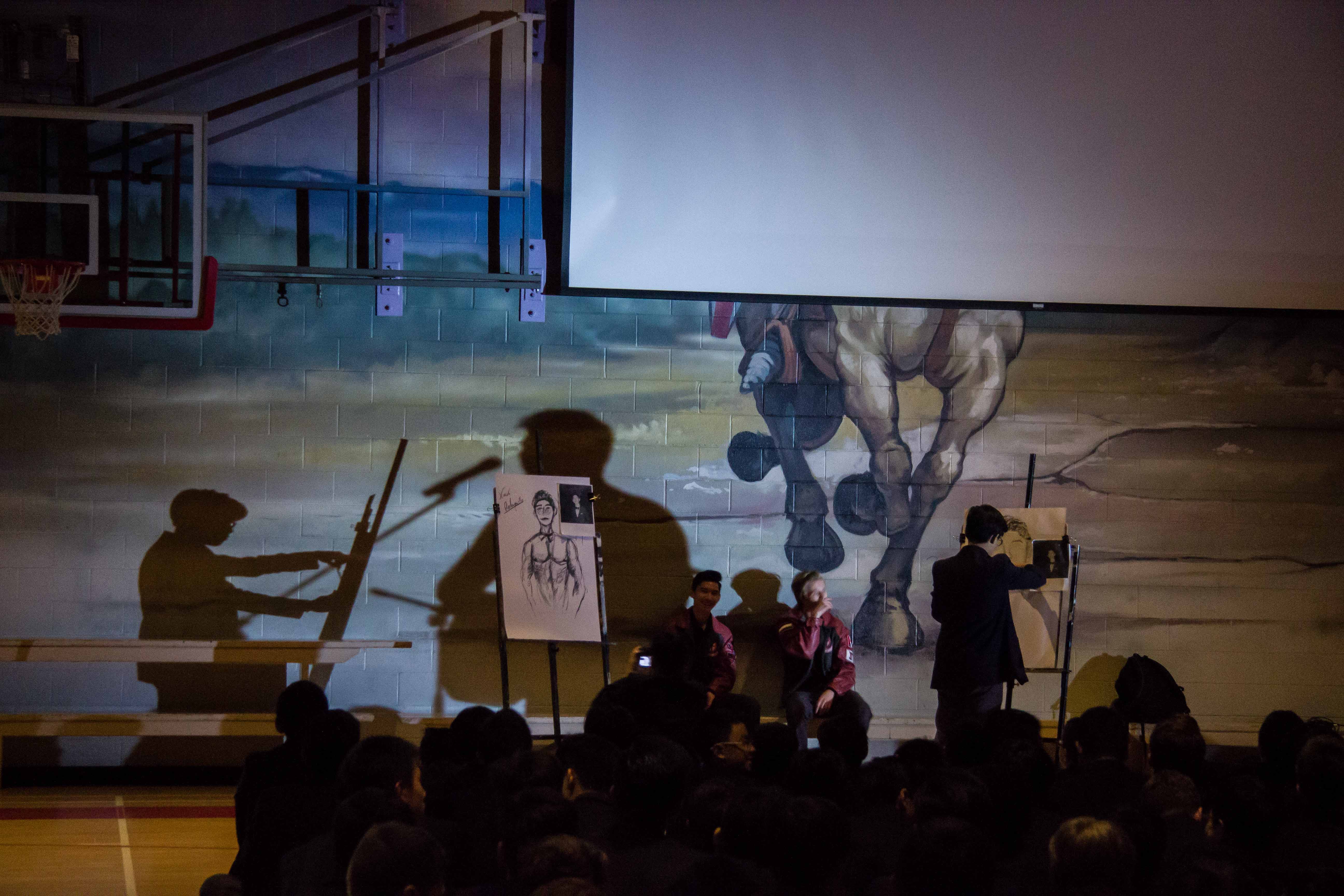 Despite the lack of a guest speaker on Day 4 of Arts Week, the morning assembly (hosted by the grads) was still equally (if not arguably more) entertaining. A portrait drawing competition took place between Jacky Yang and new Visual Arts Rigg student Kevin Tang, where they had an allotted amount of time to draw Head Boy Xavi Delgado. Kevin Tang later described the experience by commenting "it was a grand moment for me. I really enjoyed that assembly because I [could] feel the energy from the crowd as people are engaged in art!"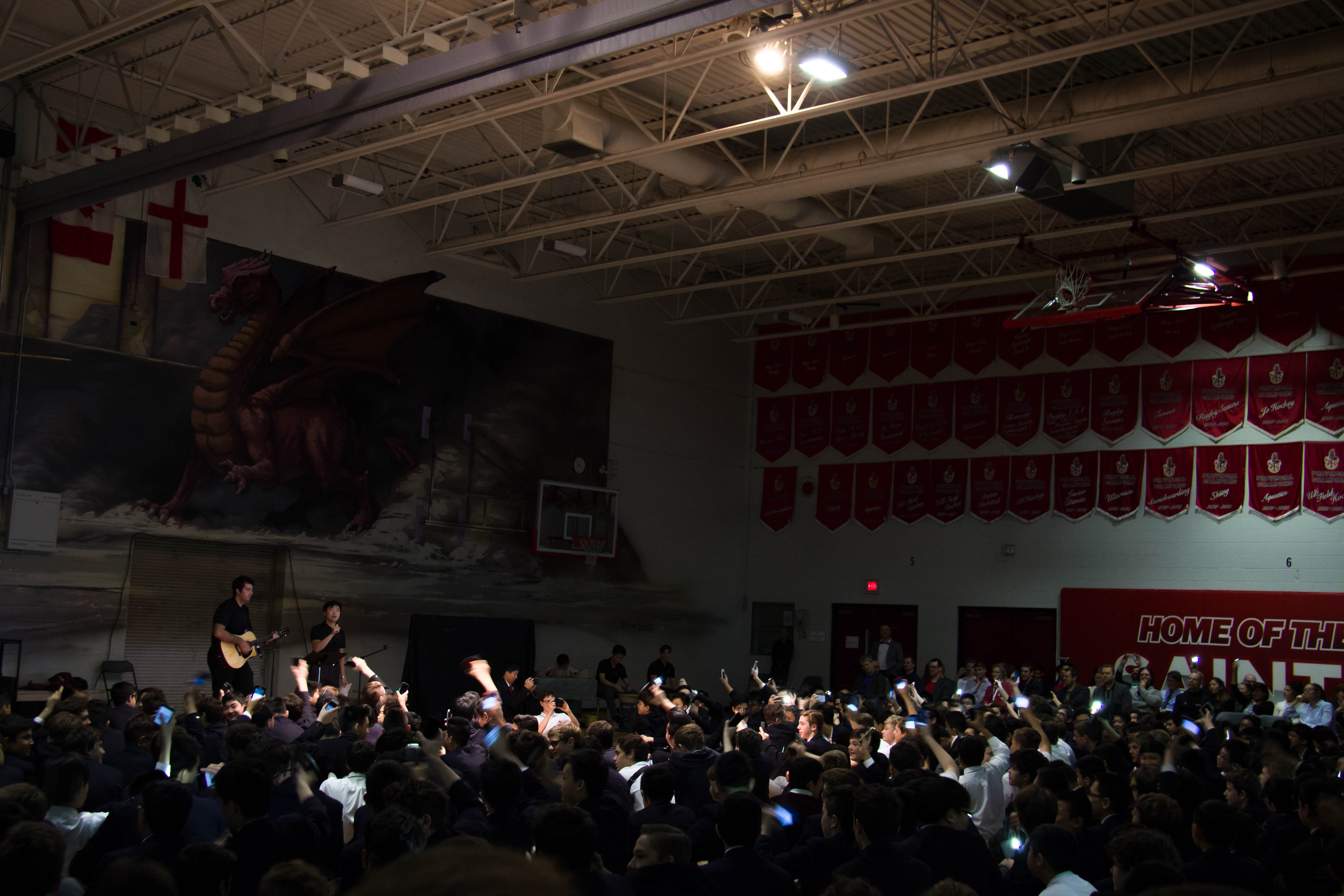 The assembly also saw several musical performances from the likes of Isaac Shaha, Michael Lau, Ryan Karimi and Luke Lu. Michael Lau and Ryan Karimi's performance invoked a strong reaction from the audience – who pulled out their phones and used their built-in flashlights to wave in sync with the music. Luke Lu's humourously (and controversially) edited video combined with a debatably talented rendition of Celine Dion's My Heart Will Go On also drew laughter from the crowd. A "Biology and Nature" themed ceramics competition took place between the Grade 12s' visual arts Rigg scholars, despite the end result being some interestingly shaped mushroom models.
Thursday was also when Harker Hall held its annual Arts Week Formal Dinner, where various boarders volunteered to demonstrate their musical talents. Some particularly notable performances included (Grade 11) Shayne Miller's djembe drum performance, as well as Ms. Rossnagel's "squad" performing Don't Stop Believing by Journey.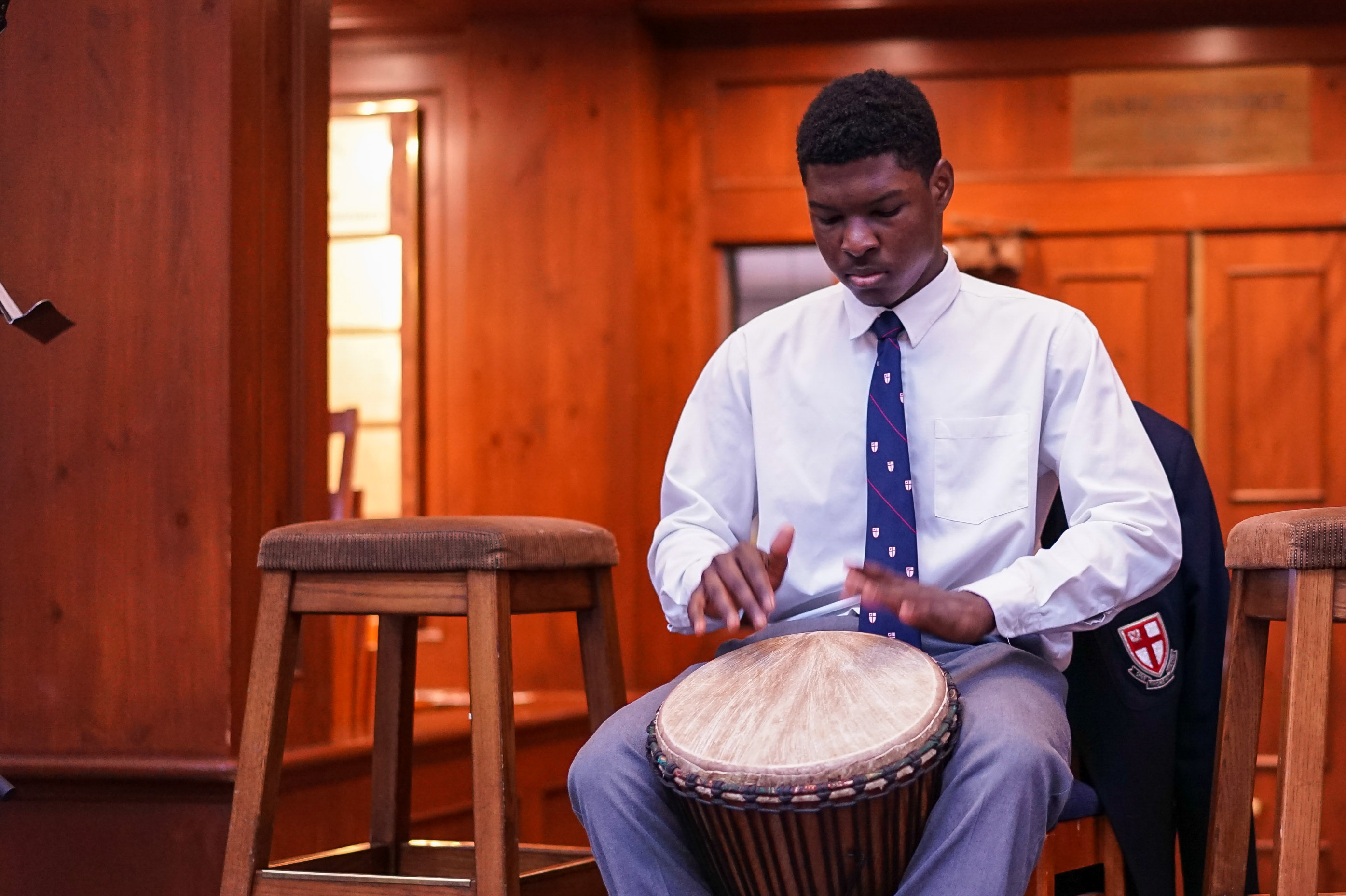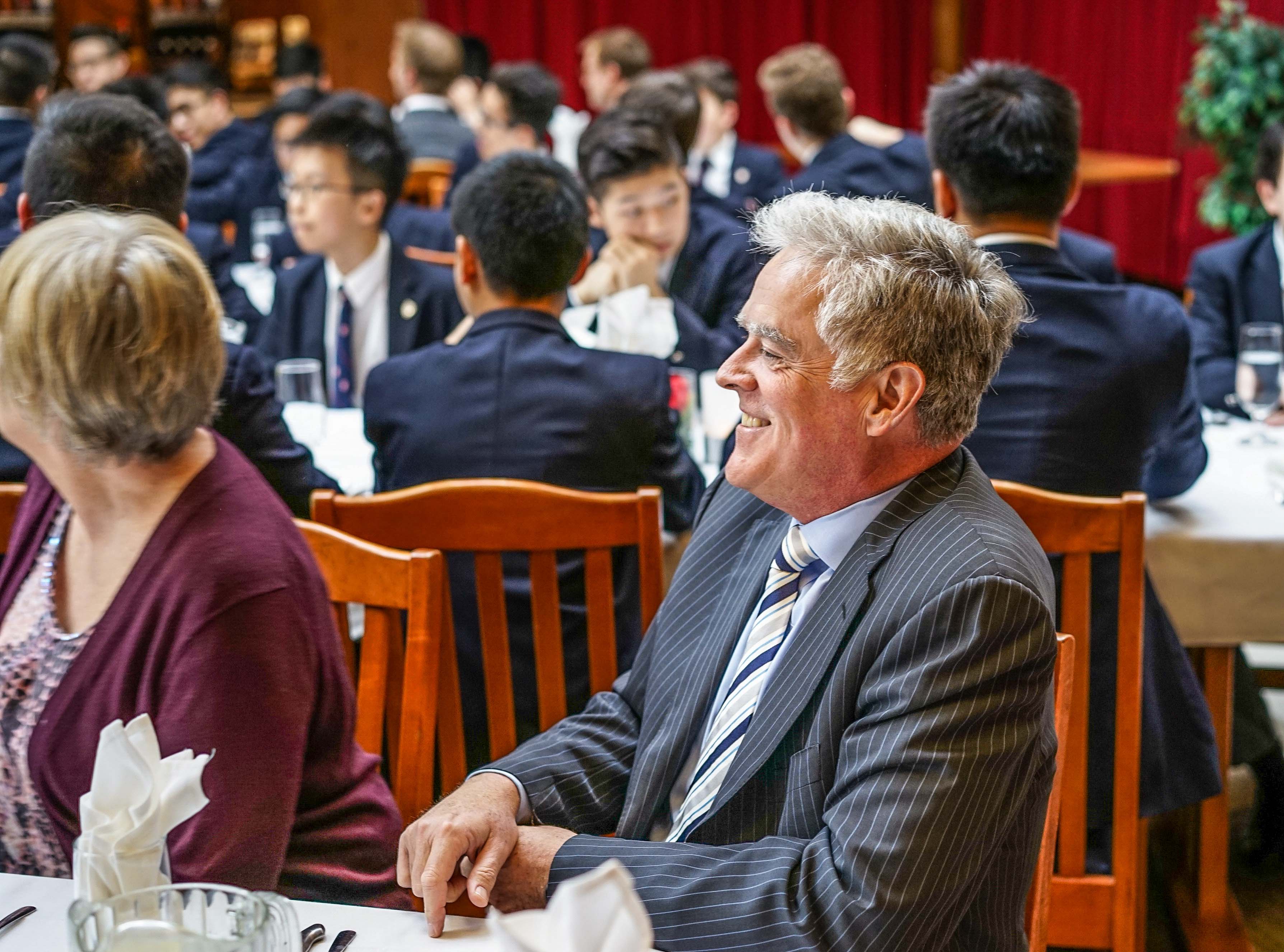 Day 5

Michael Green was the fourth and final guest speaker of Arts Week 2017. Brought up in London, Ontario, Green introduced himself as someone passionate about the outdoors and adventurous exploration. He attended Cornell University for his undergraduate degree, and later transitioned between several "corporate" architectural firms afterwards. While working as an employee, he was responsible for the architectural design of the Petronas Towers in Kuala Lumpur, Malaysia as well as airports in Washington, D.C., and Ottawa. However, he eventually founded his own company – Michael Green Architecture (MGA) – because the firms he was employed at were "too corporate" for his tastes.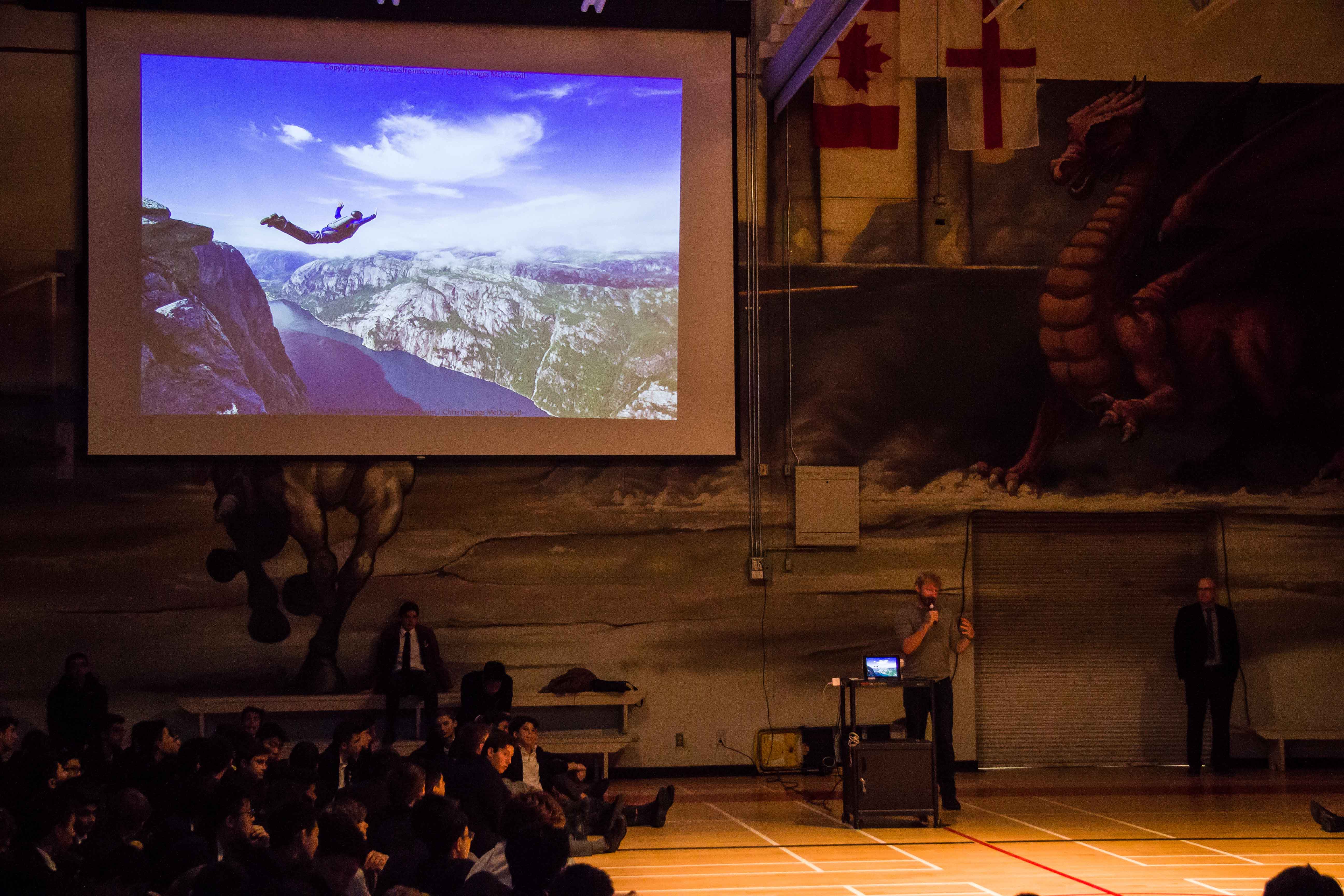 Green also explained his vision of tall wood buildings in-depth, expressing curiosity and confusion over the decidedly lacklustre amount of wooden buildings despite being safer (even in the situation of a fire), more economical and much more sustainable than traditional steel and concrete structures. His firm even cooperated with Metsä Wood (a Finnish timber company) to produce a theoretical model where the Empire State Building in New York could be self-sustaining while being made entirely out of wood instead of concrete.
After the presentation, a woodworking class and students expressing an interest in architecture were invited to attend a Q&A session with Green. The hour-long discussion revolved around his upbringing, student life at Cornell, and the various projects he tackled in the past.
To learn more about Michael Green and his firm, visit his website at http://mg-architecture.ca/.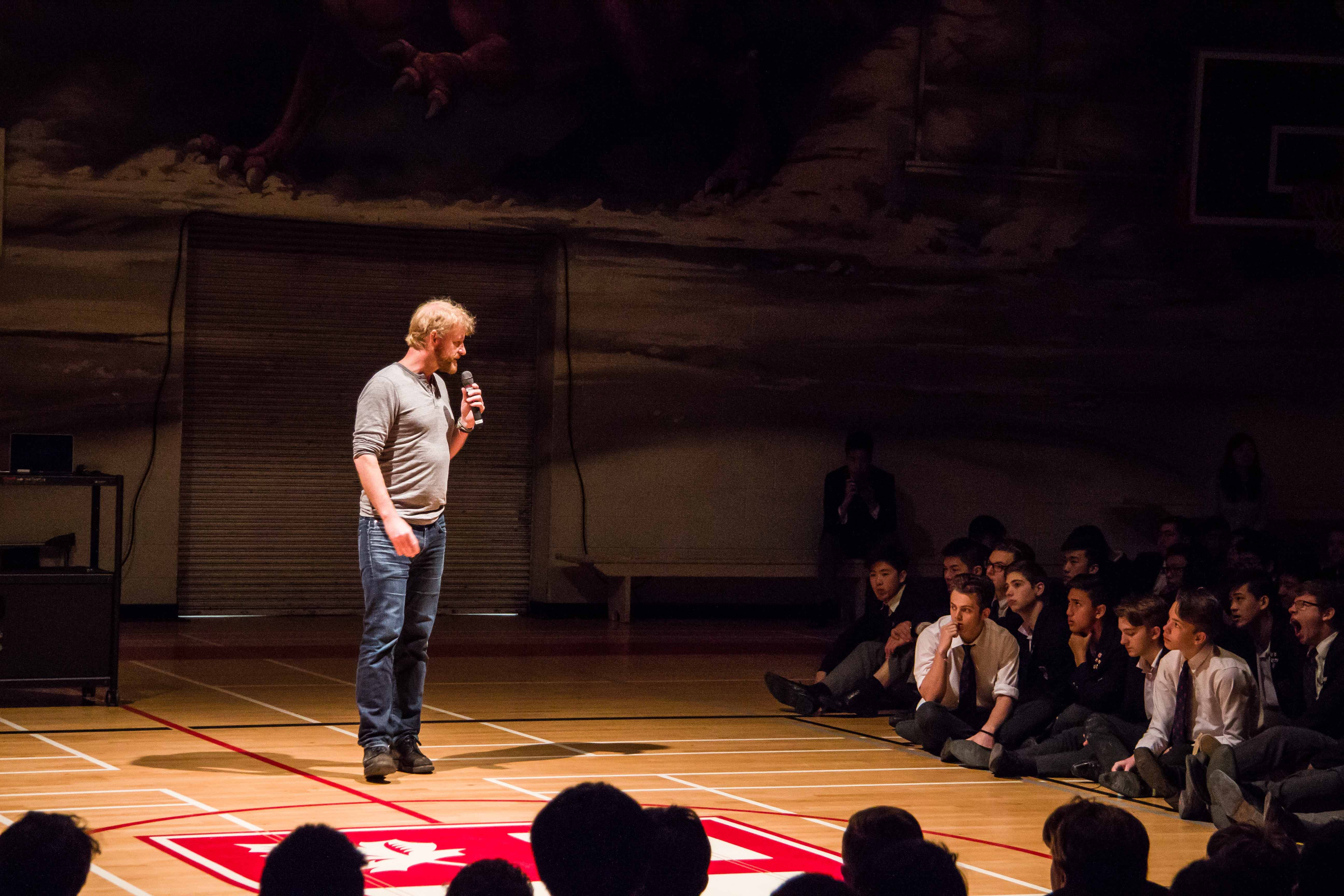 Friday's regularly scheduled Senior Assembly also saw performances from Theatre and Musical Rigg Students (including Honourary Riggs) as well as the announcement of the newly chosen Class of 2018 Rigg Scholars.
Arts Week
Other than the guest speakers, Arts Week also involved a large variety of other events, such as the Saints Expo (an evening of student musical performances), the aforementioned Harker Hall Arts Week Formal Dinner, the announcement of 2018's Rigg Scholars, and workshops led by various school clubs. However, the success of Arts Week 2017 really demonstrated that art has a far greater purpose than simple appreciation – rather, it is a medium in which innovators and activists alike can use to cause positive and substantial change.
Leave a Comment
About the Contributor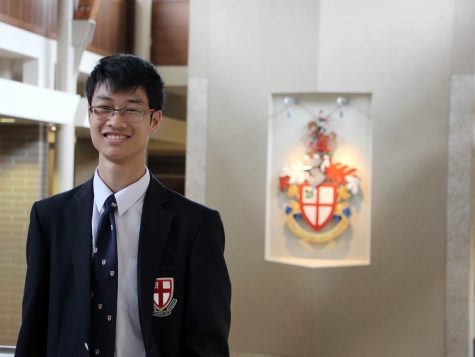 Trevor Li, Editor, Layout
Trevor is a Grade 11 student who joined Saints as a boarder in Grade 8. He has a strong interest in technology and design, and is a member of various technical...