Theatre Department's Big Entrance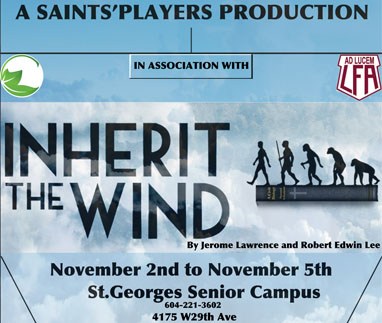 This term, the Theatre department at St. George's is preparing for the first major performance of the year. The senior grades, led by Robert Wisden as director, are putting up "Inherit the Wind" by Jerome Lawrence and Robert Lee, a play written in 1955 based on the controversial 'Scopes Monkey Trial', pitting the ideals of evolution, taught by a Tennessee schoolteacher, against the traditional creationist thinkers who populate the town. The show is set to be performed from November 2nd to 5th.
This year, Mr. Wisden made a running start on the play, with auditions happening in the first three days after the start of school, coming out with a varied and talented cast, including a number of actors from grade 10, new to the Senior productions. This year the cast is being led by this year's two Rigg Scholars, Jared Bakonyi and Michael Lau, as well as Frank Sandoval as the stage manager and student head of the stagecraft aspect. Bakonyi and Lau portray the two pivotal figures of the play, lawyers Matthew Brady and Henry Drummond respectively, who represent not only the prosecution and defence, but each support wholeheartedly the ideals upon which their side of the trial is fought.
Rehearsals have been ongoing throughout September, and continue on through October, including weekends, up until the show goes up on November 2nd. Working from after school until 5:30, the cast is busy every day working on putting their efforts into feeling out each and every character and bringing every scene into the spotlight.
This year's cast includes many actors in grade ten, who have never experienced a senior show, however thus far they have proved themselves to the production team. It seems that rehearsals are going better than Frank Sandoval could have hoped as he says, "The underdogs are going to blow it away, I would not have said that this bunch of people with this bunch of lines would have been able to do what they do."
Thus far, the play is going just as well as could be hoped, and from everyone involved. "I'm impressed at what they've achieved in 2 months, one of my fastest growing casts, and this is the first time that seeing a scene for the first time I can see it be performed on opening night." Frank continues, and as he imagines the spectacle, the cast continues on rehearsing behind him, always working towards November. Tickets to the play are available at https://tickets.stgeorges.bc.ca
Leave a Comment
About the Contributor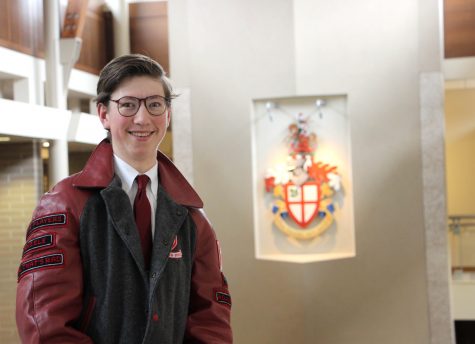 JD Edmonds, Editor, Copywriting
JD Edmonds is a student in his Grad year at Saint George's School. A student since Grade 4, JD has spent a long time in both the Junior and Senior Schools,...