Richard Wagamese: The Power of Storytelling
Richard Wagamese is one of Canada's foremost Native authors. He has been an inspiration through storytelling and journalism in a way that continues to impact people day after day since 1979. He is also the author of novels such as Medicine Walk, Saul Indian Horse, and Keeper'n Me, and has worked countless hours as a columnist for the Calgary Herald where his work was awarded with a National Newspaper Award in 1990, the first Aboriginal man to ever earn the honor. He also spent a number of years in television and broadcasting whether it be through voice or behind a camera, helping direct documentaries related to issues faced by indigenous culture and equality.
Wagamese visited the St. George's community on April 12th as part of Arts Week, to share with us a theme of becoming something more than ourselves, and his presentation began with a prime characteristic of First Nations culture: storytelling. The tale he spoke of was not a comedy, however; nor a satire, but the lucid reality of a boy struggling to survive. It would be a story that almost all of us at St. George's would have troubling understanding and even more difficulty relating to.
At a very young age, Wagamese was taken from his family and put into foster care. When that no longer worked for him, he spent his years between the ages of sixteen and twenty-four living on the streets. Without a job, and without an education, Wagamese set out to make a life for himself, one that was better than what he currently endured. On a cold Manitoba day, Wagamese wandered into a Winnipeg library to take advantage of the free warmth. At first he could not read, but by listening to others, and inspecting the treasures himself, he began to pick up every scrap of information that he could. By the time he was twenty-four, he had read everything from European history to electromagnetic theory and it was his weapon in the world, this knowledge is what ultimately would "blast away the doors of [his] fate" and help him climb to a better life.
Wagamese also joined classes throughout the week to present on different topics including the Creed's Journalism 12 class for a period to give a private presentation. During the presentation, Wagamese spoke of many topics, from being a good reporter or journalist to the power of storytelling in all aspects of life, but in one piece of advice that relates to the writers of Saint George's, Wagamese preaches "if you ask someone for guidance or advice, the best possible thing that they can do for you is say: 'You know, I really like what you did here, but as a reader, I would feel… more informed if I got [blank]. As soon as you put it into that context, it flattens all that [stigma around criticism], because what you want to do is to have it read.'"
"[Someone] who is falsely nice about your writing… doesn't serve you any good," continued Wagamese, to which Mr. Sayers responded with an extremely enthusiastic "Yes! Being brutally honest about their work, is the best thing that I can do as a teacher, to help them expand their repertoire."
You may have the support of a national renowned and treasured novelist, but we still don't have to agree with our marks.
In any case, like with most stories, there's a theme and a higher meaning behind it and this presentation was no exception. At the full school assembly, Wagamese left the community with a challenge: to aim higher and go farther. From the cold winter streets of Winnipeg and a Gr. 9 education, Wagamese earned his way to the top; with "[our] headstart, [we] should be able to move mountains."
Leave a Comment
About the Contributor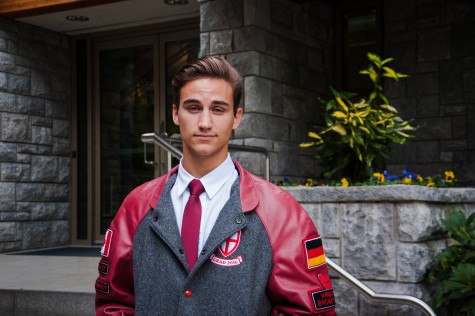 Marek Ormerod, Graphics and Design Editor
Marek Ormerod is a relatively fresh Grade 12 off the streets of Terrace, BC. He's been boarding at Saints since the beginning of Grade 11 and is now heavily...