Poetry in Voice
Poetry in Voice is an annual poetry recitation assignment that occurs in English classes all over the country. This year was the 4th year Poetry in Voice has been done at Saints. The objective of Poetry in Voice is for students to recite poems, which helps with their language, public speaking and memorization skills.
All students throughout each grade memorize a poem to perform in class. The top 3 poems in each class then go to a grade-wide competition where the students compete and recite their poems against other classmates in their grade. Once a few students from each grade have been decided on, the competition progresses to a school-wide level where the winners from each grade all come together for the final school competition to see who does the best job reciting their poems. Finally, the winner of the school wide competition is then chosen to go to regionals. This year's regionals is on March 1st. The top recitals from regionals are then able to progress to nationals to compete against students across Canada. Two years ago, the Assistant Captain of Boarding, Leo Chang won 3rd place in the nation wide competition.
This year, the finalists from each grade were Will Tiwana in Grade 9, John Kim in Grade 10, Jared Bakonyi, Isaac Shaha, Wesley Ng in Grade 11, and Chris Chan and Jimmy Kwan in Grade 12.
On January 26th the finalists recited their poems in the Auditorium to see who would be the winner of the St. George's Poetry in Voice competition. All the students did an outstanding job with their performances and there was much anticipation for the announcement of the winner. It took multiple days for the judges to finally come to a decision.
After days of deliberation, Jared Bakonyi's performance of "Death be Not Proud" by John Donne was announced as the winning recital. Jared looks forward to competing at the regional level and hopefully progress to nationals. "Being selected has been a very humbling experience. I am excited to move forward in the competition and am thankful to attend a school that offers such diverse opportunities across the board!"
Watch Jared's performance here:

Check out even more Poetry in Voice performances under the Videos section on The Creed!
Leave a Comment
About the Contributor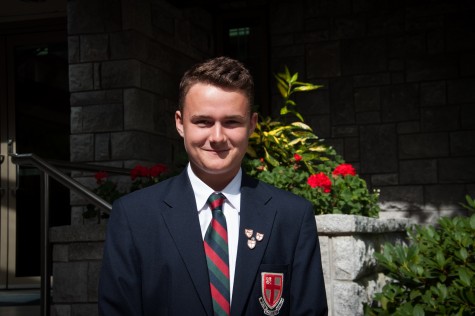 Dylan Enright, Sports Writer
Dylan Enright is currently a Grade 11 boarding student at St. Georges School in Vancouver, B.C. He was born and raised in Hong Kong until he was 14 years...