Baba Brinkman, literary rapper
On Wednesday, October 21, a Canadian rap artist named Dirk Brinkman, known better by his  nickname Baba Brinkman, visited St. George's to perform for the grade 11s and 12s. Baba Brinkman is a Vancouver-born rapper and entertainer. He is widely recognized for his recordings and performances that combine hip hop music with literature, science and theatre. He has written and co-written six hip-hop plays which have toured the world and enjoyed successful runs at the Edinburgh Fringe Festival and off-Broadway in New York.
Baba has also released ten original rap albums on his independent label Lit Fuse Records, including most recently The Rap Guide to Wilderness and The Rap Guide to Medicine.
At lunch, Baba hosted a Q&A session before his presentation so students could get to know him better before they watched his presentation.
One thing he explained was the process he goes through when writing a song. "I work with a bunch of producers who send me their half-made songs, and I'll have a project that I'm writing about, let's say climate change. So I want a beat that captures the seriousness of the topic, so I'll go through the beats and be like no, that's too happy, no, that's too silly, until I find the one that gives the perfect sound. Then I'll play that beat on an 8-bar loop for hours and then go to a Word document and just write it out. If I get stuck, I'll go read an article on what I'm trying to capture and pull a phrase out of it and try and fit that phrase to the beat and build on that."
When asked about why he uses rap as his form of communication about these topics, Baba gave a very interesting response. "Well the reason I use rap is because I love rap. I just really resonate and love the craft of a rap song and I've always valued literary craftsmanship above all other art forms, it was just what I was the best at my self and what I found the most enjoyable. So when I discovered it I was like, the new shakespeares are going to be rappers and I want to master this craft and use it to communicate. I think I would be just as passionate about my ideas and these topics whatever the medium was that I expressed them in. So I think to answer your question I am passionate about both, I love rapping which is why I am rapping, and I am passionate about the ideas which is why the ideas are the substance of what I'm rapping about. I'll discover things and think "how doesn't anybody know about this, this is so important, why is everyone talking about the Kardashians instead of this?" So then I'll be like, that's what I'm going to write a rap song about."
After the Q&A session, Baba and the students proceeded to the auditorium where he performed his brand new show called the Rap Guide to Climate Chaos. He wowed the audience with his ability to rap about such important topics in a way that was unique and smooth. He rapped several songs about climate, bringing a new and fresh sound while keeping the audience engaged with his energy and entertaining personality.  Grade 11 student William Chen said,  "Call it lyrical acrobatics, but there was definitely some magic involved in the way he chose words that rhymed and made sense in context to the song."  
Once he finished the show, he held another short Q&A session where he responded to three different students. Then, to the amazement of all, he performed a freestyle rap responding to each of the three questions again, in more depth and with improvised rhymes. Students were blown away at how he was able to simultaneously rap on the spot and still make a catchy and informative piece of art.
Baba Brinkman's show was an educational performance that gave the audience a uniquely-delivered message on important global topics.  After the show, Alvin Tsuei (grade 11) said, "I think that his performance really highlighted the beauty of literature, and how versatile it truly could be. On paper, his raps could be seen as passionate poems on issues like climate change. However, converting those words to rap added a brand new dimension to his work and enhanced the meaning of his messages."
Leave a Comment
About the Contributors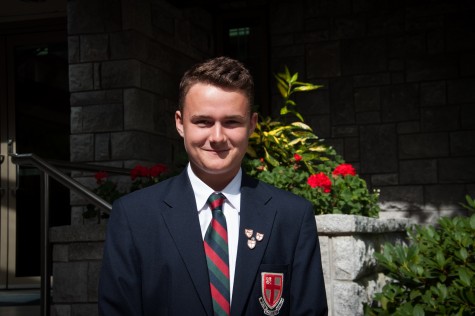 Dylan Enright, Sports Writer
Dylan Enright is currently a Grade 11 boarding student at St. Georges School in Vancouver, B.C. He was born and raised in Hong Kong until he was 14 years...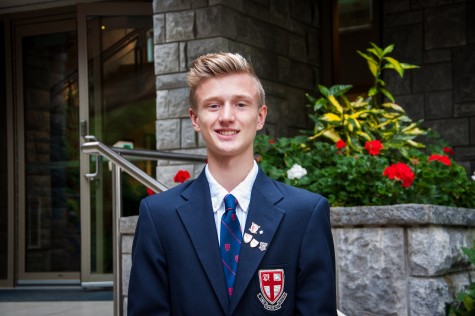 Jared Bakonyi, News Editor
Jared Bakonyi is a grade 11 student at Saint Georges. Applying to the school for his 8th grade year, Jared was thrilled to join the Saints community in...