South Asian Culture Day Satisfies Arts Week Stomachs
On the third day of this year's Arts Week, the newly established South Asian Culture Club hosted the first ever South Asian Culture Day. Grade 11 students Monie Tutt and Aanikh Kler, the boys behind the famed South Asian Culture Club, spearheaded this brand new Arts Week event.
The event was a true festival of South Asian culture, with elements of art, dance, food, and film. In the upper Great Hall, the large screen showed a slideshow of beautiful art pieces from Indian culture. In front of the fireplace in the lower Great Hall, a troupe of colourfully dressed Bhangra dancers displayed their skills to onlookers. They also taught a Bhangra dance class to students during the second half of the lunch hour.
The highlight of this event for many was the Indian Buffet served in the lower Great Hall. Students lined up throughout the Hall to feast on bountiful plates of butter chicken, paneer, rice, naan bread, and more! For just $10, students got to have some tasty Indian home cooking for lunch, which for many was a flavourful change from the daily meals at McLean Hall.
A special thanks must go out to Monie Tutt and all of his helpful friends and family, who helped to make this event a resounding success. Hopefully it will happen again next year at Arts Week 2016!
Leave a Comment
About the Contributor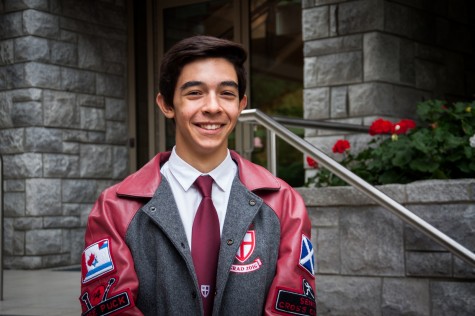 Hartley Witten, Co-Editor in Chief
Hartley is currently a Grade Twelve student at Saints, and is very proud to be writing for The Creed this year. A lifer, Hartley has attended St. George's...