Ender's Game: Preview to the Film
UPDATE: There are no more notebooks in stock as of October 29, 2013
Ender's Game is set to hit Canadian and American theaters on November 1, 2013. It is a science-fiction film based on the best-selling novel by Orson Scott Card. The movie features Andrew "Ender" Wiggins, a gifted child who is sent to military school in preparation for an impending extraterrestrial attack.
Subsequent to an attack by an alien race, the Formics, the International Fleet prepares for the next wave of attacks by training young children to be competent future leaders for the International Fleet. Ender Wiggin, a shy but gifted child, is sent to the military school to join the International Fleet.
After distinguishing himself and winning several honours, Ender is appointed by Colonel Graff as the International Fleet's brightest hope. He is then sent to Command School, which is the elite military led by current space fighters. There, he fights for humankind in a war that determines the future of Earth and its people.
On October 27, Journalism teacher Ms. Sandra Gin received a mysterious box from the Ender's Game production team. In it contained approximately 500 flashlight pens and 50 notebooks as well. They are running out fast, so come get yours today in room 225, which is close by the upper music rooms.
Leave a Comment
About the Contributor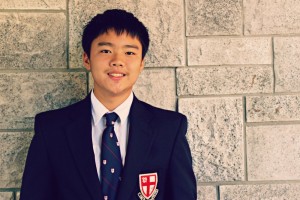 David Yang, Student Life Editor
David is a Grade 10 student at St. George's School. Though originally born in Shanghai, he moved to Canada at the age of five. As a 10th grader in his...