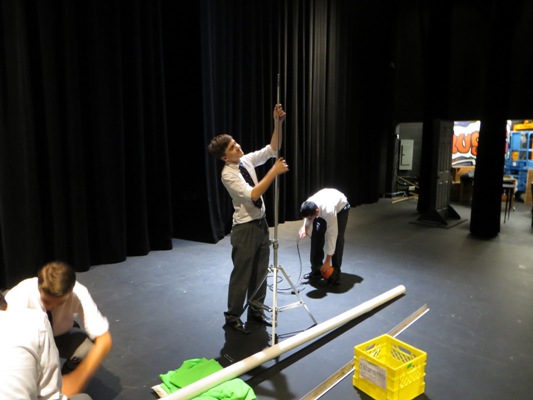 In just a little over a month, this blank stage will be transformed into a Gothic country mansion on the cliffs of Devonshire England, where ten house guests will mysteriously die. This year's senior play will be Agatha Christie's gem of a thriller, And Then There Were None.
In this play, ten strangers find that they have been invited to a house party hosted by the rich and famous Mr.Owen. Oddly enough, none of the individuals can recall who Mr.Owen is, yet they are all enticed to attend. Throughout the coming days, the guests end up dying–all of unnatural causes–and panic grips the guests as they try to decide who the murderer is.
This St. George's production features veteran actor, Nico Virvillis, as the lead. Other iconic roles are played by students Alex Mcfeteridge, cast as the butler, and Alistar Pitts, as the scrutinizing detective. With over one hundred million copies sold, and the game Clue based off of the novel, there is sure to be a great audience turnout.  Not to mention, all the actors will be speaking in British accents.
If you are a fan of a harrowing mystery or you just enjoy the theatre, this is the play for you.  Catch the action from November 7 – 11, 2012.  As an added bonus, ten days prior to opening night, be prepared for some fun in the halls as we all await for the count down of And Then There Were None!