Larceny and Old Lace – Worth A Watch?
The first showing of "Larceny and Old Lace" started Thursday, March 8th, 2018 at St. George's School. The play, is an adaptation of Arsenic and Old lace, a crime film from the 1940's. This play is directed as a clever and well-crafted spoof of the theatre classic.
Walking into the school on a rainy dark night was a first for me, but being greeted with friendly faces at the door was nice. I showed the ticket to the boys at the door and moved along swiftly. Don't worry everyone the theatre seats were comfortable as they can be. I went back out after dropping off my bag and picked up a somewhat affordably priced rice krispie.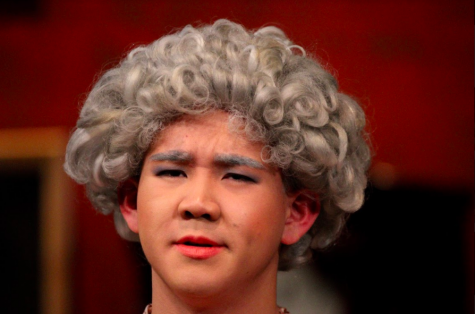 The first half of the play starts off slow, but the story and comedic moments pick up after the halftime quite quickly. The set was beautiful and well crafted. The cloud looming over the play is dramatic including situational irony coming together to create a very funny series of events. This is done perfectly when the audience knows something that the characters don't. As I mentioned earlier, I think that the first half of the play was a little slow moving, but still funny. As serious as the plot may seem, it was played out with grace and whimsicality, making it appealing and funny for all ages and audiences. The Character development came on quite fast, quickly jumping into aunt Millie and Gertie's mishaps, and the obvious and funny confusion of Harold Peabody.
Originally while watching the play I thought that a few characters didn't have the right actors conveying them, but as the play continued onwards I realized that the characters were meant to act less funny and less interactive. If both of the Aunts were making the jokes than it wouldn't have been balanced. They need one Aunt to make the jokes and the other one to be the opposite, confused or grumpy. This contrast in character personality helps the play have comedic relief and still remain serious with the storyline. This is just another reason why I recommend you to watch this play.
In conclusion, Larceny and Old Lace conveys an interesting story with a great emphasis on keeping it light and funny. The actors and actresses did a fantastic job perfecting the play, and In my opinion, it is worth a watch. Considering this was the junior drama team, it was seriously well done and well rehearsed.
Leave a Comment
About the Contributor
Max Rolfe, Staff Writer
Max Rolfe is a grade 10 student at St. George's School. A member of the St. George's Community since grade 5, Max has spent lots of time in both schools....