Is This Restaurant a New Trend in Malaysian Cuisine?
---
Kaya Malay Bistro
Rating: ★★★★☆
Phone: (604)-730-9963
Address: 1063 Broadway W, Vancouver, BC V6H 1E2
Price Range: ~$30 per person
---
A restaurant with a decidedly eye-catching store front sits on 1063 West Broadway. On the exterior, wooden planks adorn a magenta red wall, and a modern white and green logo is positioned on top. The restaurant in question is Kaya Malay Bistro – a restaurant that takes pride in being "the new trend of Malaysian cuisine." Through its unassuming glass door awaits a calm, refined, and contemporary interior. Kaya Malay Bistro was founded by Mr. Scott Kwan, the General Manager of popular chain restaurant Banana Leaf since it was founded. According to a short biography on the restaurant's website, Kwan understands "the importance of the consistency in food quality and customer service…[and Kaya Malay Bistro] reflects the beautiful and always evolving west-coast dining scene, a place where culinary authenticity meets fusion creation." The staff themselves call Kaya Malay Bistro's style of food a fusion of Chinese, Malaysian and Indian cuisine. Let's find out whether or not Kaya Malay Bistro lives up to its claims.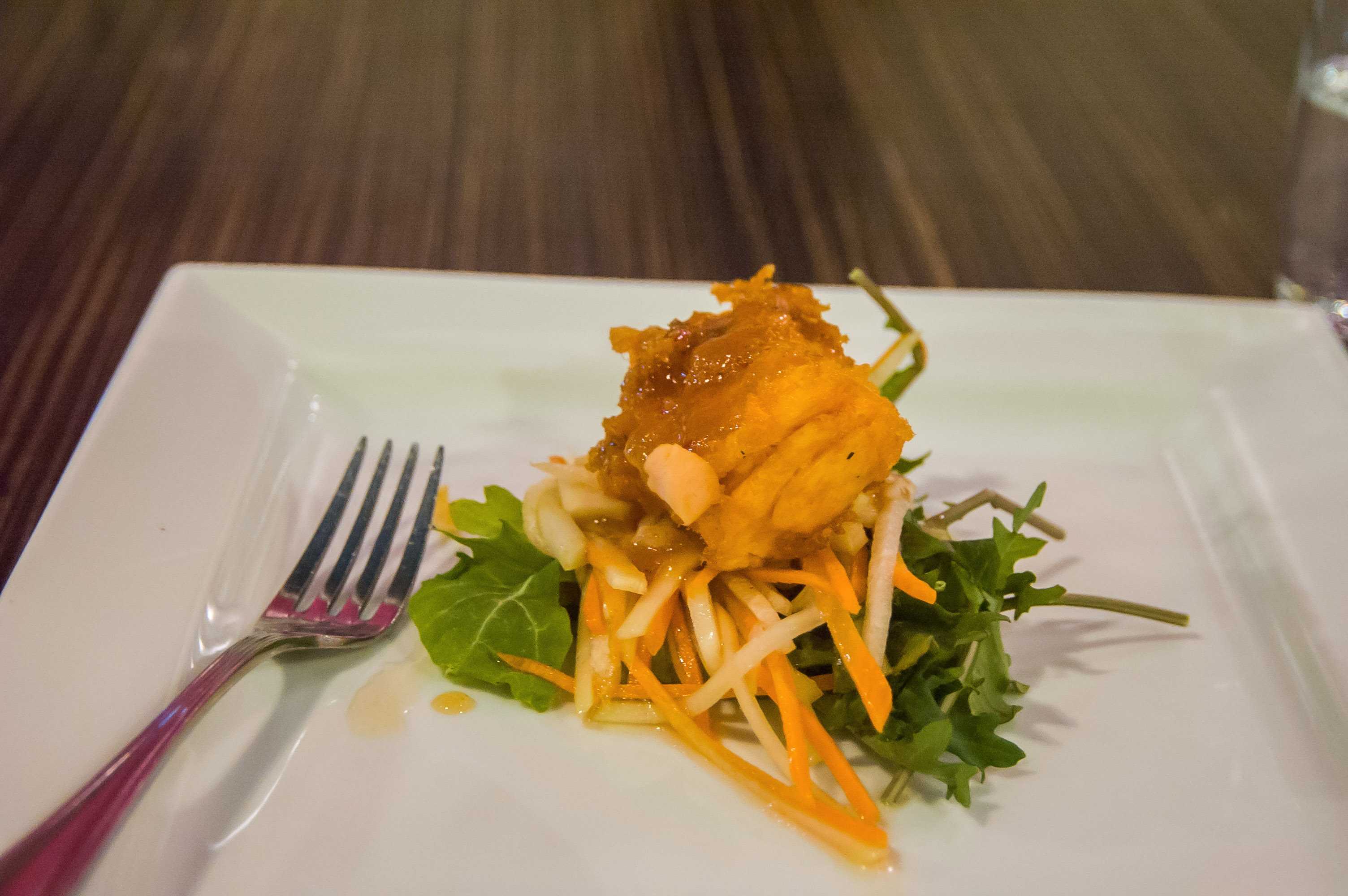 My appetiser was a "Yusheng Salmon and Kale Toss," which was essentially a roasted salmon vegetable salad. Most of my table had ordered the same dish, and while we agreed it tasted quite good, we also came to agreement over how sour it was. The taste of this appetiser will be quite unfamiliar to those who unaccustomed to Southeast Asian cuisine, and it is, in my opinion, a little too strong for a starter. However, opinions are subjective, and your mileage may vary. A spoon and a fork are provided for the appetiser, but a knife is available upon request (although realistically, it should have been provided in the first place).

While I was waiting for the main course to arrive, I had some time to take photographs of the interior and generally take in the atmosphere of the restaurant. On its website, Kaya Malay Bistro claims its atmosphere is "trendy," and for the most part, it is. The restaurant has all the accommodations you'd expect from a contemporary restaurant: free Wi-Fi, various dining options for vegetarian and gluten free diets, and a modern interior design. The music is also elegant and contemporary, and suits the whole atmosphere of the restaurant. The pink and yellow colour scheme of the walls also compliments the mood, and this all combination results in a comfortable and contemporary restaurant environment. However, it should be noted that the Kaya Malay Bistro only has windows at the front the restaurant (where it faces West Broadway Street), so the restaurant gets progressively darker you further in you sit.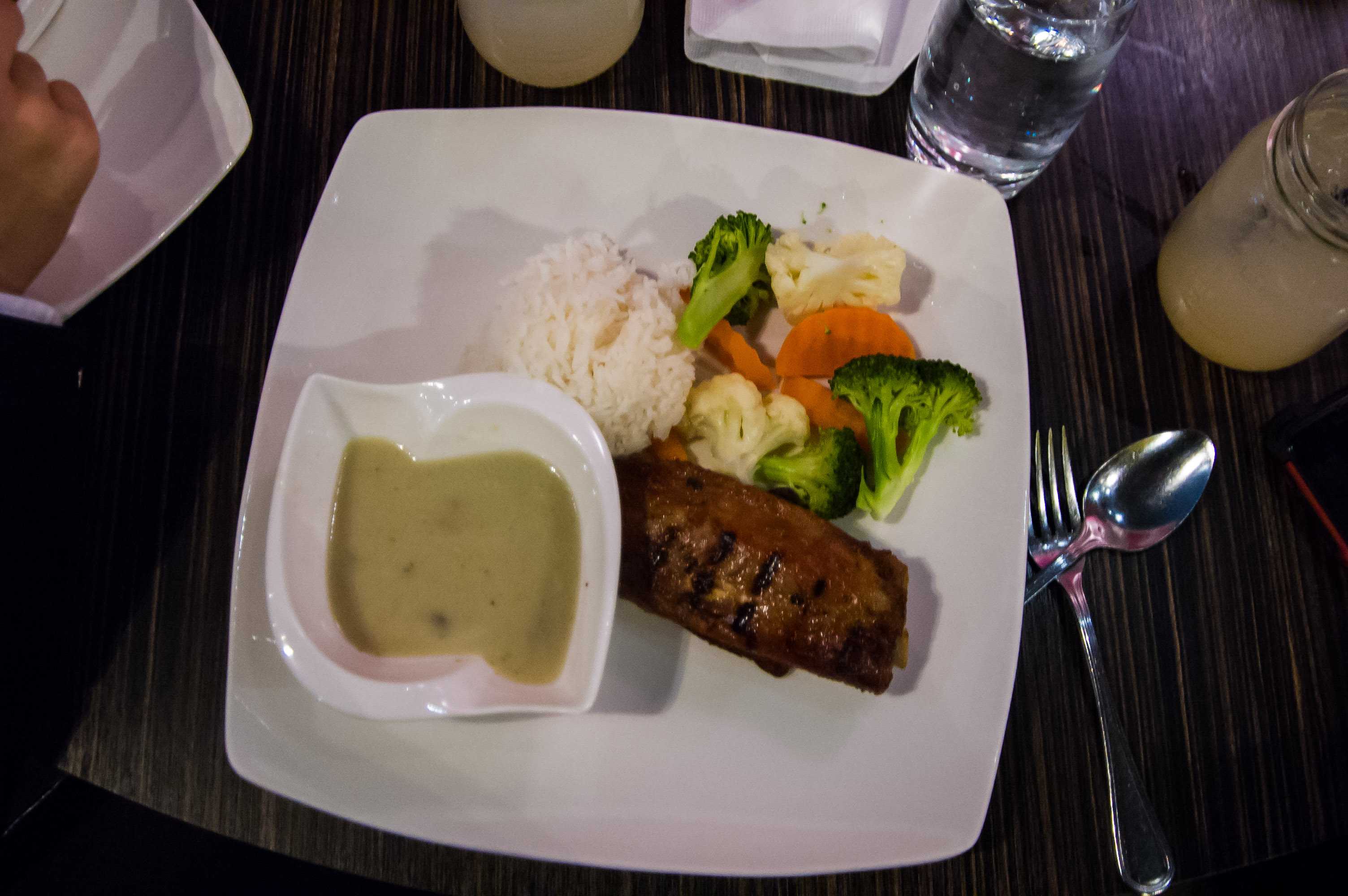 The main course arrived: a decently sized plate of "Roasted side ribs on jasmine rice [with] cauliflower, Kaya-style green curry," which is quite literally what its name says. I enjoyed the ribs a lot, and it was quite difficult to find anything wrong with it. However, If I had to nit-pick, I would say that the meat could have been a bit more tender and a little warmer, but this is by no means a deal-breaker. If possible, I would have liked a larger portion with more meat and rice, as the dish wasn't entirely substantial as a main course for me. Even though I had a very filling breakfast earlier that day, I was left with a slight sense of wanting when I cleared the plate.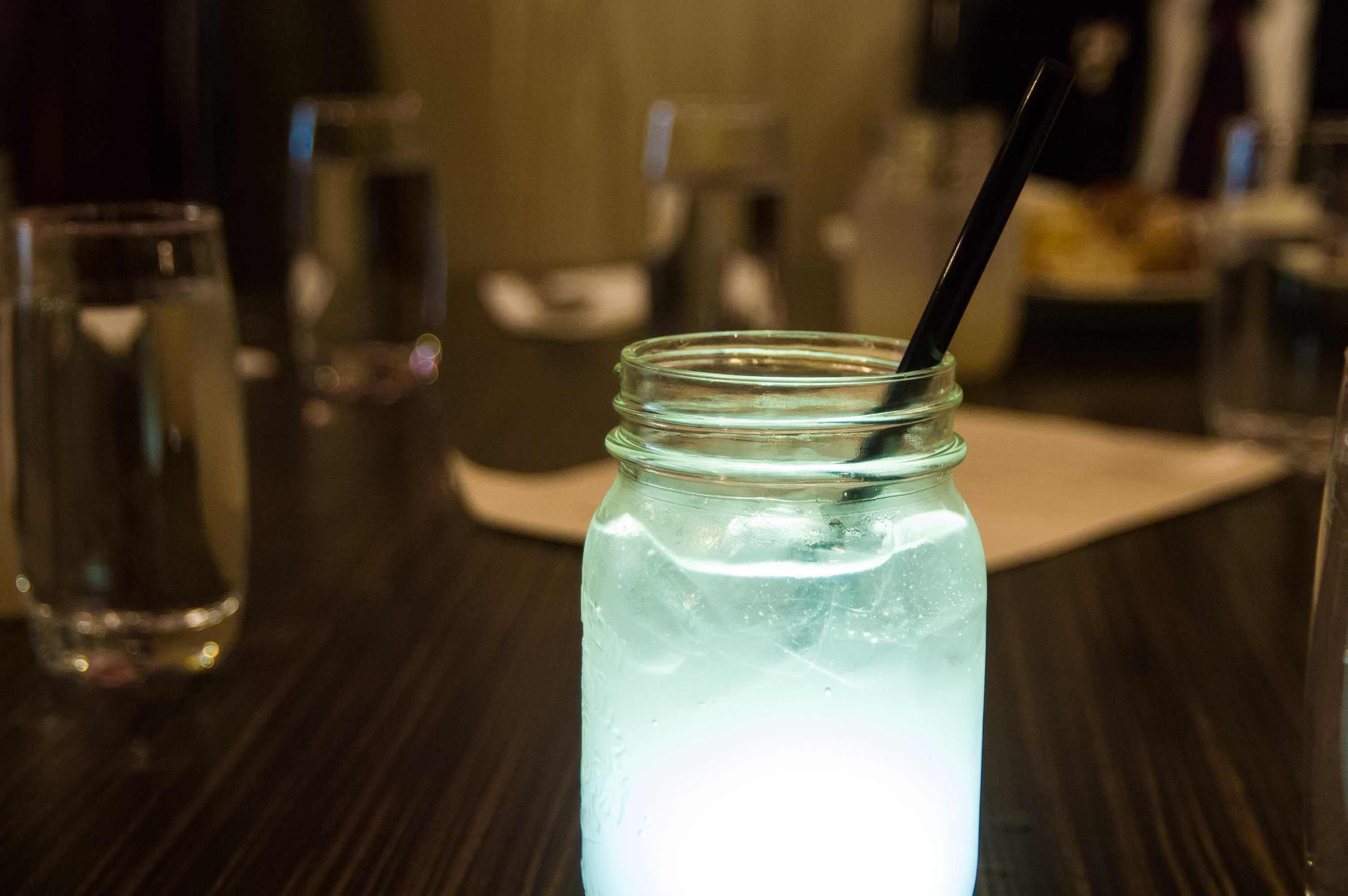 My table also decided to order cups of "lychee soda" upon the recommendation of the waitress, and it arrived in a timely fashion. Although its taste will be unfamiliar to those who haven't eaten lychee fruits before, I (and my table) would still highly recommend it.
A "Berry & plum sugar Crepe" was served for dessert, and I was impressed by how well its sweetness proceeded the salty taste of the ribs. However, I would recommend one eats the berries first, as they will taste very sour if the pastry is eaten first. Our table stayed for a short while after everyone had finished their meals, and once the bill was paid, we went on our way.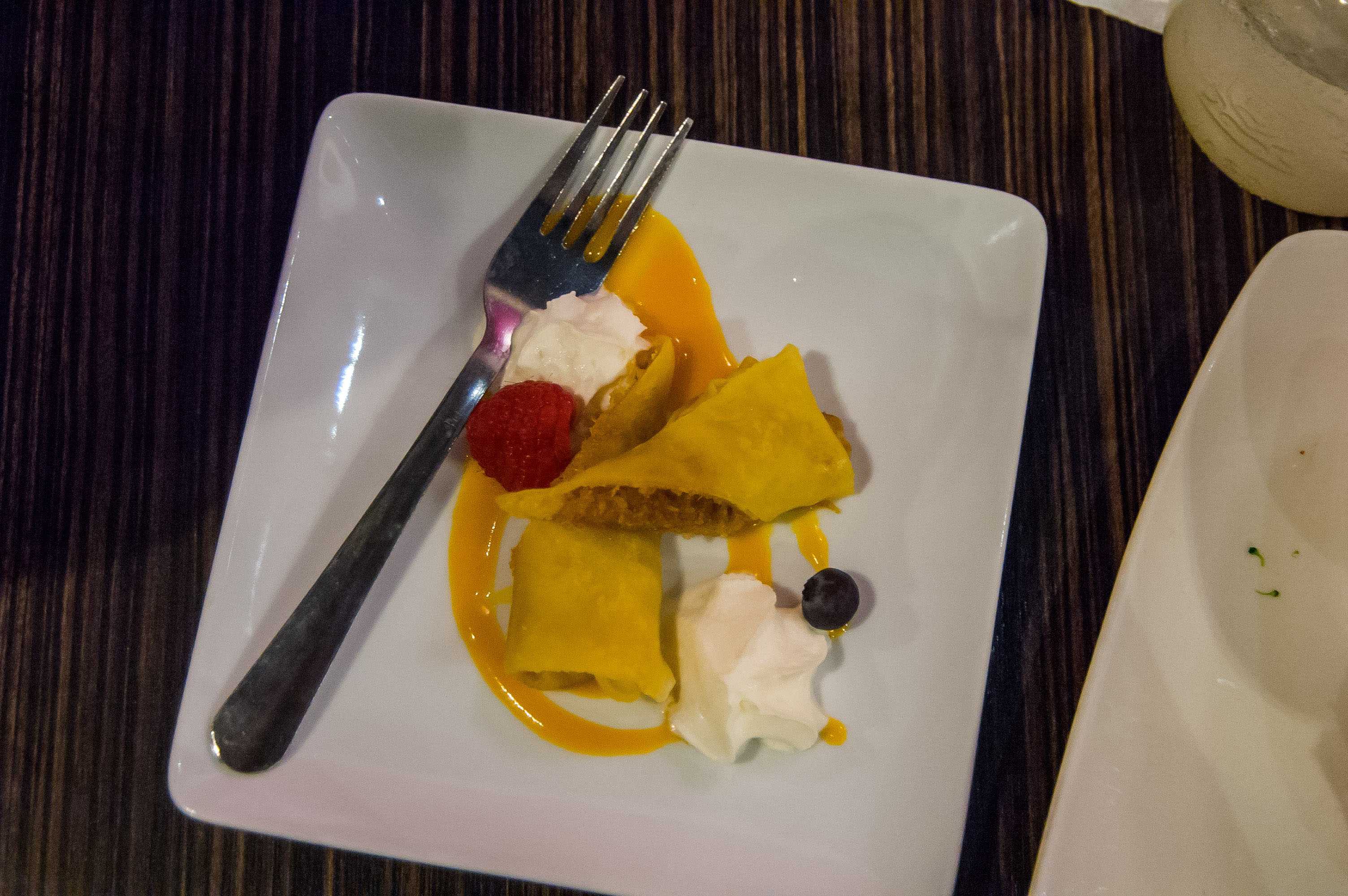 So, does Kaya Malay live up to its claim of being a place where "culinary authenticity meets fusion creation?" In short, it does. I don't think I've ever experienced so many flavours in single meal before – the sourness of the appetiser, the saltiness of the ribs, the spice of the soup (that came with the ribs), and the sweetness of the crepe come together to create a meal that is diverse, flavourful and unique. While some minor kinks like portion sizes could be ironed out, a host of courteous staff, an elegant interior, and savoury meals complete the experience of a restaurant that proves its worth on the evolving dining scene of Vancouver.
Leave a Comment
About the Contributor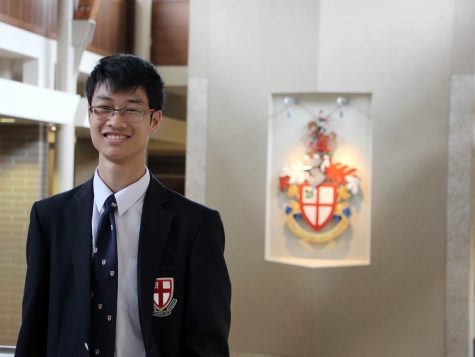 Trevor Li, Editor, Layout
Trevor is a Grade 11 student who joined Saints as a boarder in Grade 8. He has a strong interest in technology and design, and is a member of various technical...