Saints of Saints: Harrison Lee on the U.S. Election
The 2016 presidential election in the U.S. has evolved into a spectacle watched by the whole world. Whether for the greater good or for the television ratings, both front-running candidates, Hillary Clinton and Donald Trump, have been construed in different ways by the general electorate. Not too long ago, the Creed caught up with Harrison Lee, a grade 12 student at St. George's with a love for politics, to learn about his views and his take on the election.
Harrison believes "politics is a reflection of human experience" as he claims, "it brings us together." Also known as Liberty Lad to many, he prides himself on the views that he makes public on his SoundCloud podcasts. These views stem from two simple thoughts: "People ought to be free, as long as they are not harming others and their nature is being respected. And that the government should be as small as possible, focusing on three duties: security, freedom, and justice."
Putting these views in perspective has been hard this year for Harrison, with Donald Trump and Hillary Clinton having emerged as the two front-running candidates. "Common ground is hard to be met, but we currently have two of the most unpopular candidates ever," claims Harrison. Regardless, Harrison sees a clear outcome from the election, predicting that Trump will win the electorate vote with 280 representatives to Clinton's 258, with only a slim margin in the popular vote of 2% separating them.
Through Harrison's social media presence, he makes his allegiance to the Republican Party quite well known. But, "I'm not a republican, I'm a conservative" is his motto. "[Conservatives] embrace the founding values of America, they choose what they want to do." On the opposite side of the spectrum, he feels that "democrats push everything through the drain" and that perhaps they inhibit others' freedom.
These views have recently gotten Harrison into well-sported debates, including one that can soon be heard on his SoundCloud page. These debates have drawn a noticeable audience, and one particular question that seems to arise relates to Harrison's potentially 'harsh views.' When asked why most people view him this way he answered that "the party is very bad at articulating their means, Trump doesn't represent the majority with what he says." He doesn't believe that his views are harsh, "they are different," he claims. "Just because I'm more outspoken, doesn't mean that these beliefs aren't had by others;" Harrison simply thinks that explanations are needed to clear up miscommunications.
Harrison Lee's podcast, Liberty Lad's Conservative Corner, can be found on iTunes and SoundCloud. His podcasts range in topic from conservatism and politics all the way to his occasional discussion on baseball. He welcomes all new listeners.
Leave a Comment
About the Contributor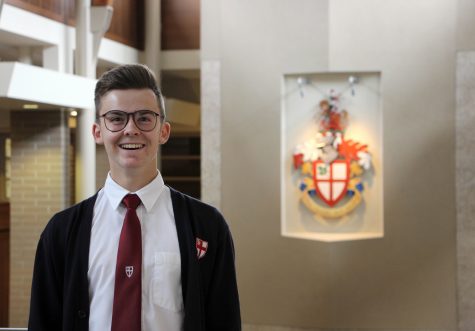 Sandy Fogarassy, Editor, Opinions and Saints of Saints
Sandy is a grade 12 student at St. George's School, Canada's World School for Boys. Sandy has been at the school since the wee years of grade 6 and...