Blake Hayward, The Golden Saint
From December 15th- 19th, the World Junior A Challenge took place in Cobourg and Whitby Ontario. St. George's own Blake Hayward (12) was a member of the gold medal winning team, Canada West.
The World Junior A Challenge is an international hockey tournament for boys 20 and under. It is a major tournament that is broadcast by TSN, which is a large Canadian sports broadcasting corporation. The competition is no joke as two Canadian boys Tyson Jost and Dante Fabro are projected to go 13th and 14th in the NHL draft this June, according to TSN expert Craig Button's mock draft.
There were 5 countries competing in this year's tournament. They were Canada, Switzerland, Czech Republic, Russia, and the U.S.A. Hockey Canada had two teams in the tournament, Canada East and Canada West. All together there were 6 teams battling for the gold.
On Canada West's road to gold, they surpassed the Czech Republic and the U.S.A. coming first place in pool B. In the semi finals, the team played their fellow Canadians, Canada East. The Canada West team won 8-5 and went on to the finals playing their Russian rivals. In the finals, Blake's physicality was important in Canada West pulling out a nail-biting 2-1 victory.
To be selected to play in this tournament, the players have to be members of a Junior A team.
Blake is currently a member of the Coquitlam Express in the British Columbia Hockey League (BCHL). Playing in the Junior A league is an enormous commitment. It is a challenge to balance school and hockey.
Recently, The Creed had a short Q and A with Blake:
Creed: What are your biggest motivators, what pushes you to achieve success?
Blake: My biggest motivators are the people who don't believe in me. When somebody tells me "your not good enough" or "you should stop wasting your time, you aren't going to make the NHL" it pushes me more than anything. I have a drive within myself to prove those people wrong, no matter how much work or pain I have to endure to get there.
Creed: What's your daily schedule like nowadays with the Coquitlam Express? How do you balance school and hockey?
Blake: I wake up in the morning and usually have either a workout or a skate in Richmond with my skills coach at 7:15 am, then I come to school. At around noon, I start driving to Coquitlam which takes approximately 40 minutes. When I get there we have a team video session and meeting to discuss the team's tendencies and weaknesses. Then at 2:00pm we skate as a team for 2 hours. At 5 we have either a team workout or a team yoga session depending on when our next game is. After that ends, I come home and start again. On game days I wake up at 7:45 and go to school for the entire day, then I leave at 3:30 from my house and drive straight to Coquitlam for 4:45 video session and pre game meetings/media interviews.
Creed: How did you feel putting on that Team Canada jersey? What did it mean to you to play for your country?
Blake: Playing for Canada for me has always been a dream, and representing my country playing the sport that I love is something I can never describe. I remember the first time I put on the jersey then skating our pre game warm up against Russia, hearing 4000 fans going nuts in the stands supporting us was a surreal feeling, and that was an exhibition game. Over the course of the tournament, we all kind of got used to the pressure and the exhilaration. Playing each game became more of a job; our mindset was more "Ok we have to win this."
Saints hockey teammate and brother, Koshi Hayward (gr.11) had this to say about his brother's achievement, "Blake is by far the hardest working person I have ever and probably will ever know. You don't find many kids these days who will put as much effort as Blake into achieving his goals. I think when Blake gets chosen for these extremely high level tournaments and games, it puts all his hard work into perspective. Standing in the arena as a fan, I just felt so proud of not only my country for winning an international tournament but also my brother for being a part of it. The experience was incredible and really unexplainably amazing. I think if Blake stays on this track and maintains his work ethic the possibilities for him are exciting."
Leave a Comment
About the Contributor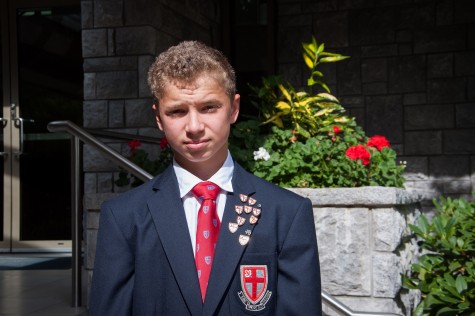 Cameron Burian, Sports Editor
Cameron Burian is a current grade 11 student, at St. George's school, who is actively involved in the athletics program. Cameron plays soccer, basketball,...