The Meaning of Thanksgiving: Why Holidays Are Losing Their Purpose
What comes to your mind when you think of Thanksgiving? Most people think of turkey dinners, pumpkin pies, and football games as things that make up Thanksgiving.
When Canadian Governor Vincent Massey proclaimed in 1957 "A Day of General Thanksgiving to Almighty God for the bountiful harvest with which Canada has been blessed," he envisioned a holiday of giving thanks to those who matter in one's life. However, I found that little of Massey's foresights are reflected upon us today. For instance, multiple Grade 10 students commented that the aspect of giving thanks is secondary to having fun, enjoying a 4-day weekend, and "eating turkey for no reason." Also, the fact that most children spend Thanksgiving on their phones and tablets clearly contradict the holiday's purpose. This increasing ignorance not only creates unnecessary stress, but is also harmful to our society.
There is nothing wrong with having fun and relaxing, but people are misinterpreting the purpose and meaning of holidays. A recent study from the American Psychological Association found that 71% of people are stressed about the holidays due to shopping for gifts and cooking meals. Nevertheless, presents and dinners should not be the primary aspects of holidays. These findings prove that people's values towards holidays are mistaken and unnecessarily troubling.
Even religious and authoritative figures were forced to conform to the new nature. For example, Ash Wednesday is a Christian holiday when one ashes their forehead to remind them of their origin and end state. Recently, many churches introduced "drive-thru ashes", which according to CBC, one could "receive your ashes without having to leave your car." Although it is innovative, this change belittled the spirit of Ash Wednesday.
In truth, many of us forget the original meaning of the holidays. Labor day's purpose in recognizing the achievements of organized labor now indicates the beginning of a new school year. Similarly, Christmas has changed from celebrating the birth of Jesus to buying presents, telling Santa stories, and decorating houses; Thanksgiving day's role of showing gratitude is now a reason for sumptuous dinners, family gatherings, and another day away from school.
If we continue to overlook the original meaning of holidays, we are in fact losing our century-old traditions that represent a significant piece of our culture. Traditions are the bedrocks of our families and our society. They reinforce important values such as integrity and a strong work ethic. They shape who we are today and who we are likely to become. While traditions should change to reflect the current attitude, we risk damaging the foundation of our collective identity when we become ignorant of them. Yet, thousands of people are stepping on these holiday traditions to pursue their own interests.
"Provide Solutions, not complaints." While we need to give thanks on Thanksgiving, the act of giving to others serve the same purpose: instead of stuffing our already-filled stomachs with more turkey, give a piece to someone else.
We should enjoy turkey dinners, pumpkin pies, and football games. But on Thanksgiving, we need to center our celebration on the core values of the holiday: Love, gratitude, and generosity.
Leave a Comment
About the Contributor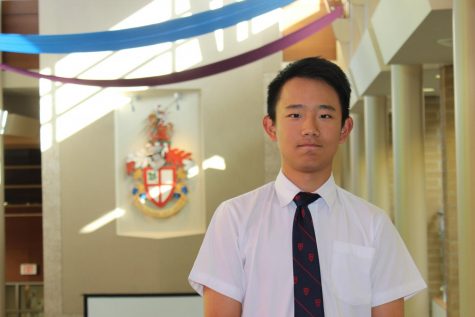 Tony Li, Staff Writer
Tony is a Grade 10 student who joined the Saints family in Grade 8. As a student-athlete with an immense passion for the game of golf, Tony can often be...