Sisters: Crude Humor at its best
Sisters is a comedy released on December 18, 2015 starring Tina Fey and Amy Poehler, which right away suggests this is not just another meaningless farce or a boring dramatic comedy.
The movie is about two close sisters, Kate Ellis (Tina Fey) and Maura Ellis (Amy Poehler), with very different lives in two different cities who have been called back to their childhood home to clean out their bedroom so their parents can sell the home they grow up in. Kate is a single mother who is a jobless and homeless nail stylist. Kate's college daughter Haley (Madison Davenport) has been distant whole summer because she feels Kate is not a responsible mother. Maura is an over-bearing recently divorced nurse who is financially stable. The two meet at the airport and head back home, hoping to convince their parents not to sell the house they grow up in. On their way home, they decide to flirt with James (Ike Barinholtz), a man who is doing some gardening work. However, as soon as they arrive home, they discover that their childhood house has already been sold.
In their desperate attempt to prevent the house from being sold, and to relive their childhood, they decide to throw one last party in their home. They invite their high school friends through social media while purposely excluding Brinda whom Kate hates. While preparing for the party, they run into Brinda (Maya Rudolph), and it becomes clear that Brinda is upset that she is not invited. Then, they go to a nail salon where Maura invites her Korean nail stylist Hee-Won to the party, and Kate attempts to apply for a job at the salon. Kate fails to convince the salon boss for the job but pretends to have landed the job so that her sister Maura would think she is back on her feet. Finally, the party takes place.
At first, the party is a disappointment because everyone is middle-aged and settled. However, after a speech Kate and Maura make, as well as with the help of some drugs and the appearance of Hee-Won and her young attractive friends, the party turns around and gradually becomes wild and out of control. Throughout the party, many little details reveal little life lessons here and there about parenthood, friendship, midlife crisis, aging parents, love and life in general. However, the main theme is really about re-finding one's self and coming to term with one's dysfunctional but loving family.
The plot of the movie is not a spectacular one. In fact, the beginning feels a little slow. However, it does try to portray a real family life story, despite all the craziness that makes the plot seem implausible. The dialogues between the sisters and the realistic but over-dramatized party that they host are definitely the highlights of the movie. As soon as the background of the family is introduced, the movie is filled with comical moments and thoughtful details. I would definitely recommend my follow friends to go watch this movie and learn a thing or two about the not so abnormal dysfunctional family story while laughing uncontrollably.
Rating: 10/10
Leave a Comment
About the Contributor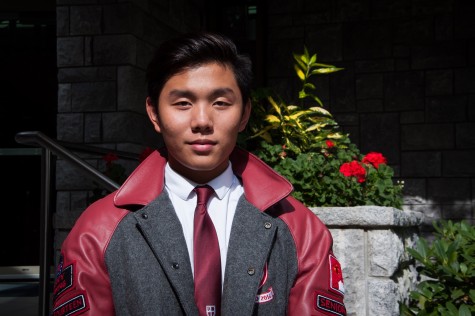 Harry Duan, Staff Writer
Harry is currently a grade 12 student at St. George's School. Harry is enthusiastic about athletics, music and travelling. In school, he participates in...