Grand Theft Auto V: The Review
The Grand Theft Auto series has always been a hit since its debut in 1997. Each game puts the player in the shoes of a career criminal. Game players explore an open world environment and must complete missions that follow a storyline. The Secret to Rockstar Games' masterpiece is that it is two games in one. Players have the opportunity to follow a dynamic and engaging storyline and experience the life of a career criminal. However, players can also partake in many fun mini-games, such as going to casinos, the beach, or golf resorts, and cause massive amounts of trouble within the fictional cities. Rockstar Games the developer have pushed innovative boundaries with its newest release, Grand Theft Auto V (GTA V) .
GTA V excels in all the aspects of a game that players are looking for: it is a visual masterpiece and its graphics are the best that we've seen from any Grand Theft Auto yet, the storyline is engaging and whether its driving a car or shooting drug dealers GTA V's game-play is outstanding across the board. Grand Theft Auto V within just five days of its launch earned Rockstar Games one billion dollars making it on of the most successful video games in history and rightly so.
Without revealing too much about the details of the game, I'll first talk about the storyline. The story follows three different criminals who come from different backgrounds and commit organized crime together. The game allows players to switch to different characters during game-play and in between missions and it is a great concept that has actually been integrated beautifully. The three main characters complete missions relating to their own personal problems and there are several missions where the three are brought together making the ability to switch characters truly amazing. The storylines are incredibly engaging with the many twists and turns which makes the player deeply invested in the characters.
GTA V has left the title as video game far behind; it has become a virtual reality. The graphics are so finely tuned and precise. GTA V's main city, Los Santos, is cleverly representative of Los Angeles and the characters, whether central to the plot, or peripheral, look eerily real instead of just animated computer code. But what players will really notice is how realistic cars look. Whether it is a city bus or an Italian super car the vehicles in the game are authentic. Auto manufacturers will not allow a 100 percent copy of their cars so Rock Star Games has to make minor changes to their in game cars to avoid copyright infringement.
The game play in GTA V is sublime, even if you're new to the series learning to play is surprisingly easy. Driving cars is no longer arcade-like, it rivals even racing games when it comes to realism. The fight scenes are improved by an auto- aim system that makes combat more fluid and efficient. Unlike most of the game's forerunners, GTA V has checkpoints in various stages of a mission so when your character dies, you don't have to re-do the entire mission. Best of all, there are no load screens. You can seamlessly enter any part of the world without being reminded that it's just a video game. Escaping from the police is now so realistic it puts you in the middle of the action. This time around to escape you must remain out of the police's line of sight and remain hidden for a period of time according to your wanted level. At some point the police will give up and you may resume your activities.
Grand Theft Auto V has expanded their niche within the gaming world and has captured the hearts and minds of players around the world. The latest installment has been well worth the wait and is something I would highly recommend but, be warned, it does contain graphic content and has been heavily criticized by some reviewers. I don't recommend the game for people who are easily offended, but it is exciting, to say the least. I have spent the last week playing a collective 13 hours and after playing Grand Theft Auto V my rating of the game would be 10/10. It truly is a window to see what we could expect from video games from now on and it has set the bench mark for 2013 game releases to meet.
Leave a Comment
About the Contributor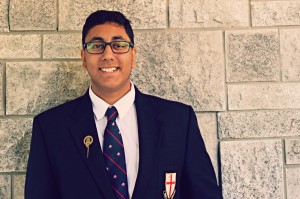 Monie Tutt, Arts & Entertainment Editor
Monie is currently a grade 10 student at St. George's School.  He loves current events and politics. However, when he isn't concentrating on foreign...