Phil Kaye and Sarah Kay
On Thursday April 10th, St. George's was fortunate enough to have Phil Kaye and Sarah Kay perform during assembly for Arts Week.  Phil and Sarah are spoken word poets. They have performed on stages such as the TED Conference, as well as the United Nations. For those of you who don't know, spoken word poetry is a form of poetry that is written on a page but performed for an audience. Phil and Sarah are both Co-Directors for Project V.O.I.C.E., an international movement that celebrates and inspires youth self-expression through Spoken Word Poetry. Their performance not only intrigued the audience, but also inspired them as well.
"I was blown away by their performances. I wasn't sure if I was actually listening to poetry." Said Fraser Hurst, a grade 11 student at St. George's.
Oddly enough, both Phil and Sarah have quite a lot in common. They are both half Japanese and half Jewish; they carry the same last name, their siblings are both named Phil and Sarah, they met at the same college and attended the same summer camp. However, they are not related.
Not only did they perform in front of the boys at assembly, but they also ran a workshop for a couple lucky students on spoken word poetry. The boys that were fortunate enough to attend the workshop grappled all of the advice Phil and Sarah had to give them. Hopefully St. George's will produce a few of their very own spoken word poets in the near future.
Leave a Comment
About the Contributor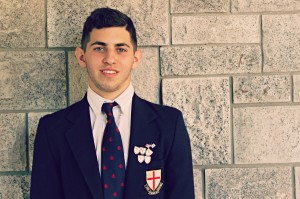 Jayden Bloom, Video Editer
Jayden is currently a Grade 11 student at St. George's and is a Staff Writer for The Creed. His interests mainly lie in Athletics, but also Music. Jayden...