VMUN: It Was Huge!
On January, 20th to 22nd, VMUN 2017 began. Vancouver Model United Nations (VMUN) is one of Canada's premier educational simulations. This event was held at the Hyatt Regency, in downtown Vancouver. This year over 1200+ delegates participated, as well as 100+ chaperones. This conference is one of the largest MUN committees in North America as it includes 27 committees. These panels include general assemblies (i.e., DISEC, WHO), intermediate agencies (FAO, HCR, UNDP, etc…), regional committees (AU, EU, HoC), advanced committees (UNSC, World Bank), and crisis committees (JCC, Chinese Revolution of 1949, etc.).
Position papers for all committees were due on Sunday, January 8th at 11:59 pm. Position papers are mandatory for delegates in advanced committees. Delegates in beginner and intermediate committees were encouraged to write position papers to be considered for an award at the end of the conference.
On Friday, January 20th, delegates began with the opening ceremonies in the morning and subsequently participated in four committee sessions. On Saturday, January 21st, delegates participated in three panel sessions, as well as a dance and social in the evening. Delegates in intermediate and advanced committees participated in a midnight crisis, which is a committee meeting that is held at 12:00 am. On Sunday, January 22nd, delegates had their final committee session in the morning. After, the conference ended with a closing ceremony, which included awards and recognition, at 2:15 pm.
Over 150+ students from St. George's School participated in this conference, six of whom are secretariats for this event. These six include Alvin Tsuei as Secretary General, Chris Pang as Chief of Staff, Arjun Meta as Director of Logistics, Ryan Karimi as USG Specialized Agencies, Ken Hong as USG Delegate Affairs and the future Secretary General of VMUN 2018, and Jason Qu as USG finance.
One delegate, Samuel Chen who attends St. George's School said that this conference was a "fantastic experience" and will attend VMUN 2018 in the future. He stated that the only defect of the conference was that "the elevators constantly jammed." However, Samuel did love the accessibility of the restaurants such as Cactus Club and Joey's and saw VMUN as "one of the highlights to [his] year."
Leave a Comment
About the Contributor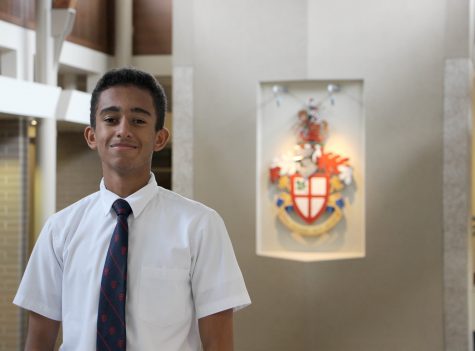 Ahmed Alghamdi, Editor, News, Student Life, and Residential Life
A tenth-grader at St. George's, Ahmed Alghamdi joined the school in grade six. He has a variety of interests within and out of school. In school, he...