A Great Season, But an Even Better Playoff
On April 15th, 2017, the iconic NBA (National Basketball Association) Playoffs begun. During the Playoffs, the top eight teams from every conference (East and West) compete to win the championship. Last year's winners were the Cleveland Cavaliers in a seven-game series versus the Golden State Warriors.
The teams that will be participating in the Western Conference are the Golden State Warriors who claimed the first seed, the San Antonio Spurs in second, the Houston Rockets in third, Los Angeles Clippers (4th), Utah Jazz (5th), Oklahoma City Thunder (6th), Memphis Grizzlies (7th) and the Portland Trailblazers (8th). The bracket lays out as the first seed playing the eighth, the second playing the seventh, the third playing the sixth, and so on forth.
There are four rounds of the Playoffs. The first stages start with the quarterfinals, then the conference semi-finals after come the conference finals, and when only two teams remain, it is called The Finals.
The teams that would be participating in the Eastern Conference are the Boston Celtics (1st), the Cleveland Cavaliers (2nd), the Toronto Raptors (3rd), the Washington Wizards (4th), the Atlanta Hawks (5th), the Milwaukee Bucks (6th), the Indiana Pacers (7th) and the Chicago Bulls (8th).
Many amazing plays and efforts were shown throughout the first round. All teams gave their best effort in an attempt to "live another day". However half of the 16 teams that came into this tournament ended their playoff run short.
The results of the first round were preceded by Golden State's sweep against the Portland Trail Blazers, a 4-1 win over the Houston Rockets against the Oklahoma City Thunder, a 4-2 series won by the San Antonio Spurs and a strong series leading to game seven won by the Utah Jazz.
In the Eastern Conference, the Cavaliers swept the Indiana Pacers,  both Boston and Washington took the set by two wins against the Bulls and Wizards, and Toronto beat Milwaukee 4-2.
Overall it was an "entertaining" first round for the audience, so the second round should be a "thriller." Many strengths and weakness of teams were shown in the first series and teams should adjust accordingly in the second. Stay tuned for the second round of the Playoffs as Cleveland look to defend their title for the second time.
Leave a Comment
About the Contributor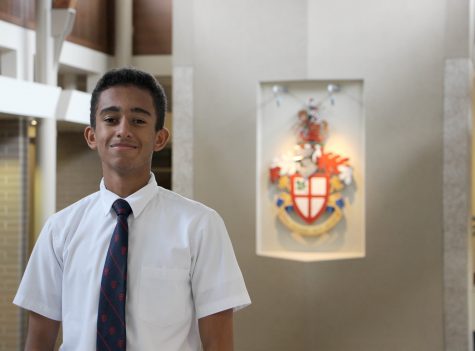 Ahmed Alghamdi, Editor, News, Student Life, and Residential Life
A tenth-grader at St. George's, Ahmed Alghamdi joined the school in grade six. He has a variety of interests within and out of school. In school, he...