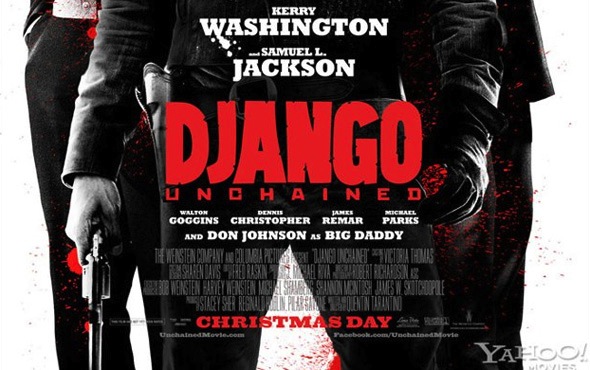 When one ventures to the movie theatre it is assumed that they have seen a trailer or at least know something about the movie they wish to view. Apparently for many viewers this Christmas break this assumption was not the case. The new movie by Quentin Tarantino, Django Unchained has been receiving backlash of all sorts. Django Unchained tells the fantastical tale of a slave (Jamie Fox) that is transformed into a convict killing bounty hunter alongside his saviour another bounty hunter (Christoph Waltz). The cast is extremely dynamic creating a really gritty blood soaked western, painting a picture of the southern slave trade but obviously not entirely accurate it is entertaining none the less.
Issues started to come up right as this movie started getting hyped. Obviously the history of the slave trade is dark and a touchy issue for some, and sometimes when you have an issue making a fantastical movie isn't the best thing for it. Django is not a slavery documentary and even though there are certain aspects to this movie that are accurate such as the reoccurring use of the "n word" this isn't a movie you should base a research essay on. Even though this movie has been nominated and praised by critics, individuals are appalled at the portrayal of the events. Spike Lee said in a twitter post "American slavery was not a Sergio Leone spaghetti western. It was a holocaust. My ancestors are slaves. Stolen from Africa. I will honour them". Spike lee has further gone on to criticise Tarantino saying he has no right to make such a movie. Lee has refused to see the movie and has received criticism against him for such acts. Main character Jamie Fox said in Tarantino's defense "He gets a little shady when he's taking shots at his colleagues without looking at their work. To me that's irresponsible". Luther Campbell aka Uncle Luke said "Screw Spike Lee. Quentin Tarantino's Django Unchained is a brilliant flick that more accurately depicts the African-American experience than any of the 15 movies about black culture Lee's directed in his lifetime". It is quite clear that tensions are high over this movie.
Human beings must remember tragic mistakes like the slave trade and the holocaust, mainly so these terrible events don't happen again. Even thought Django isn't a pin point representation of, the day in the life of a slave it still does a good job at telling the story of how amazingly horrible the slave trade was. I think everyone can agree Django is a film that employs fantasy and fact to create a visually stunning experience. Whether or not you leave the theatre appalled or pleased is completely up to oneself.