New Teachers Breakfast Celebrated The New School Year
As the new school year commenced many new faces were introduced to St. George's School, starting from new students all the way to the new staff members. While many staff members left their positions, even more new ones came to fill them in. On Wednesday, September 21, 2016, all of the new teachers introduced themselves to one another during the New Teachers Breakfast in Headmaster Dr. Matthews' office.
The new staff includes Steve Allen (Outdoor Ed Technician), Andrea Bell (Outdoor Ed Teacher), Elicia Cann (TOC Teaching Intern, Senior School/Residential Life), Jordan Daniels (Associate Faculty Service Learning & Academics/Residential Life), Greg Elliott (English Teacher, Senior School), James Kemp  (Ceramic Tech), Ying Liu (Advancement Associate, Events & School Liaison), Martin Schwandt (ELL Teacher Student Support), Erin Seibel (Receptionist, Senior School), Chris Webster (Head of Personal Counselling) and Anna Vasilevski (TOC Teaching Intern, Senior School/Residential Life) who is especially eager to start her new adventure within the St. George's community.
Ms. Vasilevski decided to work at St. George's School because "working with youth enriches [her] life." She is looking for "more fun-filled weekend events with the boys from Harker Hall; cheering on the Saints Conference debate boys, as we prepare for the upcoming debate competition season; and working with the GSA."
Previously teaching afloat on a ship, Ms. Vasilevski finds that her life at St. George's is very much similar to the one from her past due to the high paced schedules and organization. Ms. Vasilevski has had a great experience so far and quotes that her best experience has been "observing the great (and creative!) lengths boys will go to for a small bag of skittles!"
During the life afloat, Ms. Vasilevski not only taught her students but also had to worry about handling the helm, look-out, sail handling, safety checks, navigation, chart plotting and keeping an eye out for schools of tuna and dolphins. She quoted it to be a "busy and fast-paced" experience while aboard on a tall ship.
Ms. Vasilevski, who believes in the Saints' core values, will continue to work with other staff members and students to create boys who are "empathetic, respectful, humble, resilient, responsible, and acted with integrity."
Leave a Comment
About the Contributor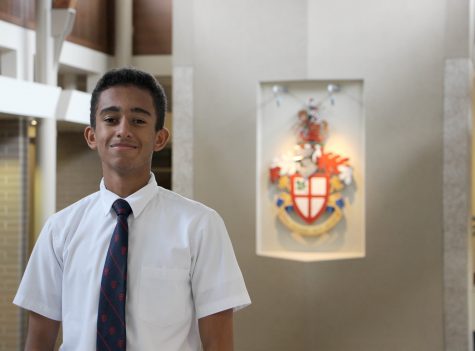 Ahmed Alghamdi, Editor, News, Student Life, and Residential Life
A tenth-grader at St. George's, Ahmed Alghamdi joined the school in grade six. He has a variety of interests within and out of school. In school, he...