The Coward- A Middle School Play
On the nights 7th to the 9th of March, the Saints Players from middle school collaborated with the girl students of Crofton and York House in producing "The Coward," a comedy written by Nick Jones, telling the tale of a cowardly gentlemen, how he got into a situation beyond anything he could ever imagine.
The Coward tells the story of the protagonist, Lucidus (the coward), fearful of putting his life on the line in a pistol duel, hires someone else to take his place. However, as his imposter wins duel after duel, his reputation grows too. Suddenly, he finds himself engulfed in fame and fortune. His popularity even allows him to meet with the girl of his dreams. But things go sour when he is forced into a terrible dilemma, as his imposter betrays him and threatens to take away everything that has meaning to him. Finally realizing his inevitable fate, he is forced to fight for his life in a five-way duel to the death. The play ends in a tragic but yet hilarious ending at the same time.
Despite maintaining a severe and dramatic mood, the squeaky and scared voice of the protagonist, coupled with the jokes coming from the many characters throughout the plot, managed to make laughter ripple over the audience time after time throughout the play.
Even the people working backstage really enjoyed it. We interviewed Stage Manager, Luis, and he described his months working on the play as a "really good experience." "One of my most memorable moments", he recalled, "Is I got to dance Bop to the Top from High School Musical with the lead female (actor), Isabelle Miller!" When asked what he liked most of the experience, he says, "It's just amazing to see how a show grows from the audition process all the way to closing night."
As an audience member, seeing the applause and cheers after the show, the Coward was certainly entertaining to watch. We hope that they will do an even more fantastic job next year.
Leave a Comment
About the Contributor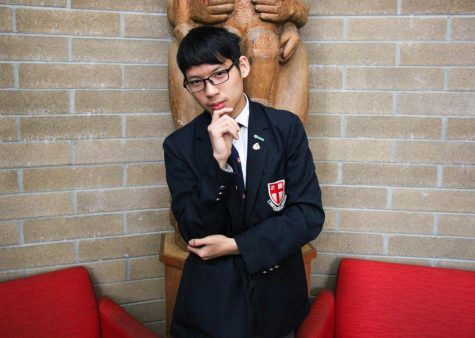 Kilian Fung, Staff Writer
Kilian is currently a Grade 11 student. Since stumbling onto the steps of St. Georges in Grade 10, he is devoted to finding his passion within the many...