Grade 10 Sea-to-Sky–Why the change?
September is a time when most students are shaking off the remnants of summer and are adapting to the rigours of the new academic year; however, this year, the Grade 10 students of St. George's School are springing into action right off the bat. On Monday September 18th, 1:30 PM at the Senior School Campus, the Grade 10s students participated in a detailed information session with their Sea-to Sky instructors. The Grade 10s collaborated to work on meal plans, grocery lists, and packing lists with their peers in their respective camping groups. The Sea-to-Sky program at St. George's represents the culmination of years of Outdoor Ed experiences at Saints. Traditionally, the sea-to-sky trips have been in early May. This year, however, the Sea-to-Sky trips are rescheduled in late September and early October, which is a significant modification to the program. So, why were the trips moved to the beginning of the school year?
My understanding is that the decision was made to help the group as a whole to bond," explains Mr. Roberts, a Grade 10 English teacher. "Perhaps it was to counter the idea that cohorts must or should or might remain fragmented from the whole grade 10 group." This is also the first year that the Discovery cohort is participating in Sea-to-Sky, which seems to align with Mr. Roberts' suggestion on grade cohesion.
While Mr. Roberts advocates the idea of grade unity, he also recognizes significant alterations in the summer reading program for Grade 10 English students. Mr. Roberts believes that "the English department's summer reading program gives the students the best chance they can have to demonstrate their skills" early in the year. However, with this year's Sea-to-Sky date change, Mr. Roberts acknowledged that he is "concerned about implementing the grade 10 summer reading program in a way that remains meaningful for the students. Many students are coming back from Sea-to-Sky in early October," which extends the completion of the summer reading essays and oral presentations well beyond the norm from previous years. Furthermore, he acknowledged that "reflection time after the first mid-term break will allow the grade 10 teachers to share their experiences dealing with the altered schedule." 
Hopefully, this avant-garde change to the Sea-to-Sky program will hopefully provide a fresh experience for  cohort and non-cohort students alike and will inspire them to collaborate and to participate in meaningful endeavours through the rest of the year.
Leave a Comment
About the Contributor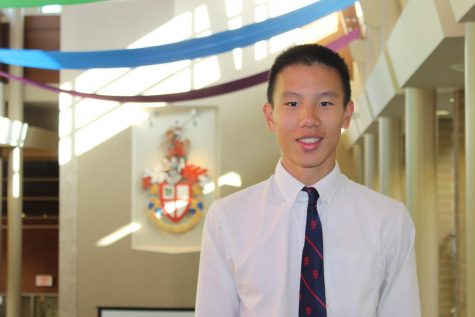 Jay Luo, Section Head, News
Jay began his journey at Saints back in Grade 6, when he was still a fledgling writer that was just starting to understand rudimentary narratives and essays....