St. Georges Day 2017
On April 20th 2017 St. George's School students and staff members celebrated the annual St. George's Day at the Senior School campus.
The day started with a formal assembly held at the Dixon gym. It began with head boy Xavi Delgado delivering a speech. He talked about the history of St. George's day and how Saint George "slayed the dragon." He ended off his speech saying, "You don't have to be courageous to slay the dragon, you just have to go out of your comfort zone."
Following Xavi's speech long time staff member Mr. Sherman was recognized for his 25 years of service to the school. He was awarded a standing ovation by all the students and staff members.
The assembly ended with guest speaker Duncan Copeland (graduate of '94) talking about his unconventional career and the importance of taking chances.
After assembly students and staff members were given a BBQ lunch taking place outside the school. Following the lunch rugby games were played on Nigel Toy Field.
Both the junior team, and the 2nd XI played against Brentwood College. After two hard fought games both St. George's teams ended up victorious after the final whistle.
That concluded St. George's Day 2017, a tradition that has been long lived at St. George's school.
Leave a Comment
About the Contributor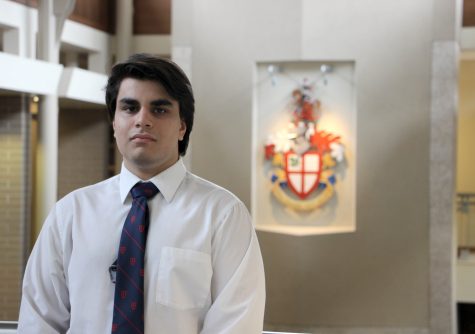 Nathan Bhatia, Editor, What's Trending
Nathan Bhatia is a Grade 10 student at St. George's joining Saints in grade 6. Nathan has found a passion for rugby and hockey. Nathan has played as a...