Think Twice Before Hitting Send
The rise of prominent social media platforms has resulted in drastic changes to the way society functions. In a world where many students have some form of a social media account, poor decisions are just a click away. Jesse Miller is a social media awareness educator who has given talks on this field to students in hundreds of schools across Western Canada. On November 22nd, he visited St. George's, where he delivered a talk to the Harker Hall boarders about the advantages and ramifications of being a teenager in a connected world.
Jesse states he doesn't focus on "internet safety"; he isn't responsible for whether a child should be talking to strangers online or not. Instead, he primarily focuses on informing students about how their online actions translate into changes in the real world – what actually happens when they tap "Send". Miller introduced his talk by clarifying some misconceptions.
"When you press the button on a phone, [the message] goes a lot further than you think," he began. Many students in the audience were surprised to learn that Snapchats didn't actually delete after the allotted time, but were instead stored on Snapchat's servers. Miller recounted an experience where he visited Snapchat's headquarters in California and described a large screen where the "Snaps" of users were being broadcasted live. "I saw many [explicit photos]," he recalled, which was responded to with nervous laughter.
"When you press the button on a phone, [the message] goes a lot further than you think."
Throughout his talk, Miller continuously reminded the audience of the potential harm and dangers of sharing information online, as wrong decisions could result in negative outcomes, such as a rejected application, ruined career, or even damaged reputation. Many of the examples he used to demonstrate his point often ended with the perpetrator(s) being suspense, expelled, denied for an application, and even arrested.
One such example concerned an aspiring American NFL player named Yuri Wright. As one of the most sought-after high school student cornerbacks in the country, he was due to play in the University of Michigan's football team under a scholarship. However, due to tweets that were racially and sexually explicit, he was expelled from his high school in Ramsey, New Jersey before he graduated. After an investigation, the University of Michigan ultimately decided to retract their offer, and Wright ended up attending the University of Colorado.
Another incident involved an illegal graffiti artist who posted images of his work on Instagram. To avoid detection, he frequently deleted his accounts while creating new ones, and this made it almost impossible for the Vancouver Police Department to locate him. However, by tracking the hashtags used in his posts (which remained the same for each one), police were eventually able to track him (down the accuracy of his house) using to geolocation and time-indexing technologies. The graffitist was ultimately convicted.
Besides cautioning the uninformed use of social media, Miller also stressed the importance of communication between children and their parents. He mentioned that it was unhealthy for a child (or teenager) to be reprimanded or criticised for unintentionally viewing disturbing content. Instead, a safe environment where the parent and the child could freely discuss the connotations of explicit material was strongly encouraged.
He continued by explaining the ethics of content redistribution. When the audience was asked whether they had ever received a screenshot of a third-party conversation, almost everyone in the room raised their hand. He used this to transition into the topic of revenge pornography and other forms of illegal content sharing. "If you use a photo as leverage over another person, you will be investigated," he warned. He used an example involving 14 teenage Canadian hockey players who were convicted for similar crimes to illustrate the severity of the issue. He also explained the Protecting Canadians from Online Crime Act, which was recently amended to account for those who committed revenge pornography crimes and other similar misconducts. "You now serve a minimum two-year prison sentence. Two years ago, in 2014, there was nothing you could do," he continued.
Miller concluded by warning the audience that records and histories of people are easily discoverable online. Online material is essentially permanent, and students and adults should be aware of the consequences resulting from poor decisions made online – to be cautious and think twice before hitting the "Post", as they could affect lives later on.
You can find out more about Jesse Miller and his work at mediatedreality.com or watch his TEDx Talk at https://www.youtube.com/watch?v=FiGclrVXAws
Leave a Comment
About the Contributor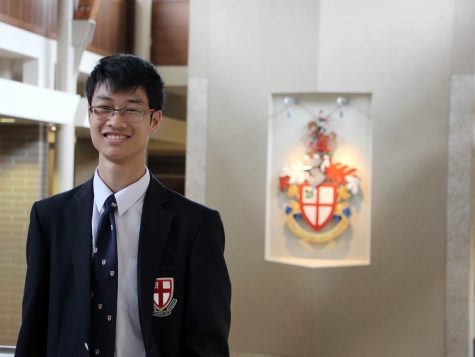 Trevor Li, Editor, Layout
Trevor is a Grade 11 student who joined Saints as a boarder in Grade 8. He has a strong interest in technology and design, and is a member of various technical...