St. George's Runs for Terry
The annual Terry Fox Run, which was ran by all faculty and students of the St. George's Senior School, happened on Nigel Toy Field and in Pacific Spirit Park this past Wednesday, September 28th. The 4 km run was done, as it always is, in an effort to raise money and awareness for cancer as Terry Fox once did 36 years ago.
While many walked and jogged, a large portion of the student and faculty population ran the course to the best of their abilities. Most notably, Roberto Pelayo Mazzone (12) won the race for the fourth straight year as he "wanted to leave the Terry Fox run on a high note." Not too far behind was Mr. Szybka who was the first staff member to cross the finish line.
The runners weren't the only ones contributing to the event. Many staff and students took up roles of their own to contribute to the festivities. Amongst those not running were photographers, those helping out with the logistics of the event, and even band members who were playing music along the track, which was conveniently located close to the finish.
All together the Terry Fox Run was "one of the best ever done" according to JD Edmonds, a participant of the run. "Everyone seemed to reach their goals." But we should remember that the real goal was to run for Terry.
Leave a Comment
About the Contributor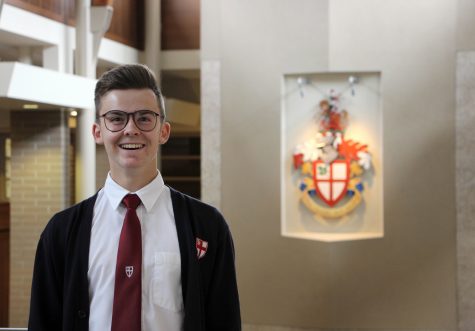 Sandy Fogarassy, Editor, Opinions and Saints of Saints
Sandy is a grade 12 student at St. George's School, Canada's World School for Boys. Sandy has been at the school since the wee years of grade 6 and...