New Year; New Beginnings
Every school year, the St. George's Senior School is officially opened with a formal assembly held within the walls of Dixon Gym to discuss the plans and goals of the upcoming year. On Friday, September 9th, newly elected head boy Xavi Delgado opened the assembly, as he touched on many subjects including important news, the overall goals of the school year, as well as the role if each grade. Headmaster Dr. Matthews and Principal Mr. Kern also made prior speeches.
Undoubtedly the most shocking news of the assembly was hearing about the death of school staff member Mr. Remi Barrette. He was involved in a cycling crash and unfortunately passed away from the accident. Although he was a man not particularly in the spotlight at St. George's, the entire school and staff will forever appreciate the efforts and contributions he made to the school. A moment of silence was held within the gymnasium in his memory.
Perhaps the most exciting news that came from the assembly was the introduction of the new staff for the 2016-17 year. There are many new faces who are working for the school for the first time, but also a few notable returnees including Mr. Chin, Mr. Blackman, and Mr. Yen. Mr. Chin returns after a two-year absence and teaches in the Science stream. Moreover, Mr. Blackman, formerly the Head of Georgian Relations, has now been appointed the new role of Head of Athletics after the departure of Mr. Cohee. Finally, Mr. Yen now has now taken the role of Head of Georgian Relations, and is an astounding fit as he was a graduate in 2003.
The assembly concluded with a touching speech from head boy Xavi Delgado. The school captain first began telling a story about when he was in grade 8, and touched on how he, himself, and his grade has grown to become what they are today; the graduates of the school. Mr. Delgado went on to give advice to each grade group within the school, and often referred to mountain metaphors, with grade 8's being at the bottom of the summit, and grade 12's almost reaching the peak.
Even though every single student within every grade is at a different point of the mountain, Xavi offered one piece of advice for all: "Tackle any obstacle along your path to the summit with vigor and tenacity. Because that… is what we do best."
Leave a Comment
About the Contributor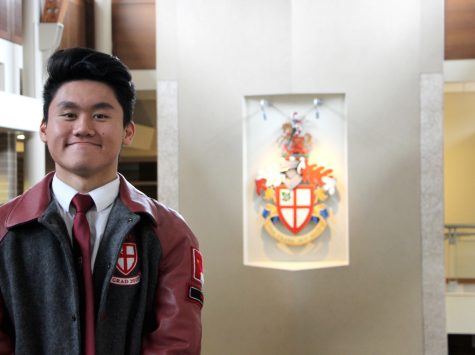 Michael Hua, Media Coordinator
Michael Hua is a grade 12 student at St. George's. He applied to Saints for the grade 11 year , which marked his first year at the school. Michael immediately...