EOTO: The pinnacle of peer mentorship
Saint Georges and it's boys display an appetite for any opportunity to give back into the greater community. It is no wonder that in the midst of an accomplished organization like Saints, there are many programs dedicated to satisfying the boy's hunger to contribute. Among the most highly regarded programs at Saints lives Each One Teach One; a peer mentorship initiative exclusively available to senior students.
Boys selected for the program are lucky enough to spend their school year as an older buddy to a Vancouver elementary school child. Students visit Alderwood, Windermere and Admiral Seymour schools on a monthly basis with respective teacher sponsors Ms. Lenny and Mr. Ross. The goal of Each One Teach One is to offer elementary school children and Saints boys alike a chance to establish a strong, influential friendship that will add to the lives of both parties.
The experience is truly a gift. For Saints boys, spending time with their little buddies sparks a newfound appreciation for the world they have grown quite accustomed to, as many of the younger children come from significantly different backgrounds than those commonly found in the Saints community..
Arseny Tyulenev (grade eleven mentor for Admiral Seymour), explained that he is excited to "connect with a new friend with vastly different experiences from myself" and "to share my own with him." He went further to describe his eagerness for "exploring new activities and locations", alongside someone  "with the perspective of a different upbringing and environment."
Jay McCauley (grade eleven mentor for Alderwood) is grateful to have the chance to "diversify [his] school experience" and have "an experience that's unusual from something I'd normally partake in."
The relationships established throughout the year will certainly extend much past the title of mentorship and shall truly blossom into friendships and connections that will last for a long time. Only great things lie in the future of the Each One Teach One mentorship program.
Leave a Comment
About the Contributor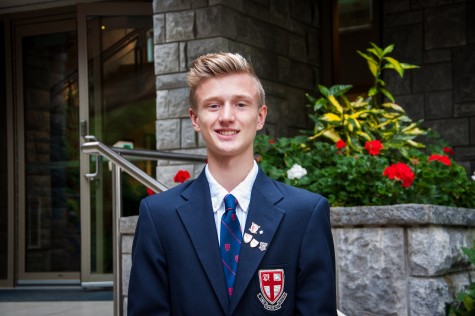 Jared Bakonyi, News Editor
Jared Bakonyi is a grade 11 student at Saint Georges. Applying to the school for his 8th grade year, Jared was thrilled to join the Saints community in...