The Future is Now: Life After St. George's
For many students at St. George's, the future is a daunting place whose details are constantly shrouded in mystery and uncertainty. Whereas students in junior grades still have time until their inevitable encounter with the future, the graduating class must undergo this confrontation in just a few months. As the new school year begins, the grads of 2016 will have to make a plethora of crucial decisions that will collectively impact the course their lives take after St. George's. With massive support from friends, family, teachers and counselors, each boy must thoughtfully consider all of the options laid out in front of them. Take a gap year and explore interests and passions? Stay at home in the wonderful, familiar city of Vancouver? Or take a risk and travel to faraway lands to learn and live in a new environment? No matter the final choice that is made, the long process of arriving at the future starts now, with the dreaded and rigorous task that is university applications.
University applications provide students with the opportunity to tell universities about who they are and what they've accomplished throughout their lives so far. However, transcribing the qualities and achievements that one possesses is not always an easy duty. Composed of a detailed resume, teacher references, multiple essays and an abundance of general information, the application for just one school is already a lengthy and tedious procedure. As many students want to apply to a variety of schools they are interested in, the burden of numerous applications and their respective deadlines begin to cause immense stress and frustration. Grade 12 student Max Elliott expressed his views on the topic: "I believe that what is most stressful about university applications is the great deal of uncertainty associated with them. No matter how hard you work at perfecting your application, you will never know if you are successful until you receive the final decision".
Along with the worrying uncertainty, another aspect of applications that students struggle with is constructing an application that will be conspicuous to those who decide between admission and rejection. Throughout the next few months, every boy will be trying to find the answer to the important question: what makes an application unique among thousands and thousands of hopeful students around the world? Jack Lin, a member of the graduating class of 2016, shared his thoughts on portraying himself as a distinct individual. "With such a large number of people trying to get accepted into the same universities as me, I have to accept the fact that there will be others who have the same interests and accomplishments as me. Even if I can't stand out in these areas, I can still strive to be unique in how I express myself and the things that I value in life."
It is evident that the university application process is complex, burdensome and altogether overwhelming. Fortunately, the boys of St. George's do not have to face this process alone; they are continually being supported by the University Counselling Department and its caring, knowledgeable counselors. These dedicated individuals work tirelessly to ensure that each and every boy arrives at where they want to be. Christine Wessler, Head of the University Counselling Department, reiterated the messages she regularly communicates to the grads, "Part of Grade 12 is actively working on a plan for life after St. George's. Whether this means completing university applications that lead to finding a place that can be called home or taking a gap year, the school and faculty are here to help realize dreams!" With so much support from the school, combined with hard work and careful consideration, the grads of 2016 will be able to turn the uncertainty they have for the future into unshakable confidence, and hopefully end up where they want to be.
Leave a Comment
About the Contributor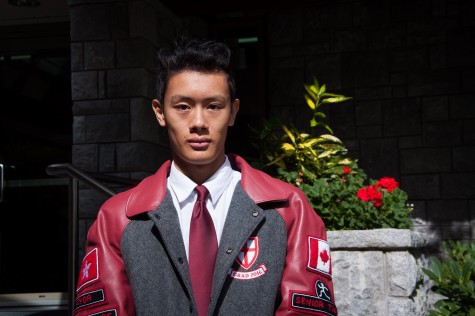 Kenneth Ng, Copy/Opinions Editor
Kenneth Ng is currently a Grade 12 student at St.George's School. Since joining Saints in Grade 8, he has been involved in many areas of the school such...