2015 BC Interior Jazz Festival
From April 17-19, the Junior and Senior Jazz bands from St. George's School headed down to Kelowna for the annual BC Interior Jazz Festival. The boys departed school early on Friday for Kelowna. As they sat in the bus for 4 hours, they found ways to kill time which included: chatting, playing cards, taking photos, singing, and listening to jazz music as they waited until they reached their final destination: the hotel. All of the boys went to their rooms and went to bed early as they wanted to conserve their energy for the next day as they had to perform extremely well in order to win in their categories.
On Saturday morning, the boys woke up early and headed to the event's venue. It was scheduled that the junior and senior jazz combos (a combo is a small band) perform early in the morning. The junior jazz combo performed: Body and Soul, Black Orpheus, and The Preacher. Meanwhile, the senior jazz combo performed Doxy by Sonny Rollins, Round Midnight by The Lonius Monk, and Chameleon by Herbie Hancock. After the combos performed in front of the judges, they were bombarded with compliments from the judges saying how impressed they were with their performances. The combos' great performances led them to be awarded with a gold standing.
Later that afternoon, the junior and senior jazz bands performed in front of the judges. The junior jazz band performed: Mr. Casual, Lil Darlin, and Whirly Bird. On the other hand, the senior jazz band performed: El Castor Loco by Andy Ballantyne, Sax Accord by Fred Stride, and Cottontail by Duke Ellington. They all did very well and were also awarded a gold standing. The judges told them how impressed they were with their performances. Unfortunately, none of the St. George's Jazz Bands were able to win their respective categories. Nevertheless, they had lots of fun, were very proud of their performance, and can't wait for next year's festival!
Leave a Comment
About the Contributor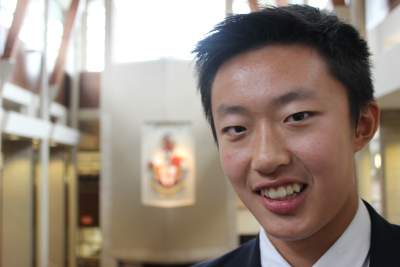 Preston Chan, Saints of Saints Assistant and Video Editor
Preston Chan is in Grade 10 and currently attending St. George's School. He has been a St. George's student since Grade 8. He plays the clarinet in St....