Ski Day 2015
On February 11th, 2015, roughly 400 students were shuttled up to Whistler / Blackcomb for the annual ski day. St. George's Ski Day has been a long-time school tradition aimed at giving students a fun day off in the middle of the busy term two.
The day started with an early wake up call, at about 5:45 for most students. The coach busses left at 6:30 sharp and the bus ride was smooth and comfortable up to the mountain. A separate bus went to a different mountain for cross-country skiing. Students had previously selected to Ski, Snowboard or do cross-country skiing. Skiers/Snowboarders on Blackcomb assembled and put on their gear and the day started systematically sound.
The snow conditions on that foggy Wednesday morning at the base of the mountain were not quite the best, with heavy amounts of melted snow taking up the majority of the lower runs. However, they were still doable. Further up the mountain, in places such as "Seventh Heaven", there was much better snow, but it had still seen better days. This may have been the reason many people chose not to attend ski day this year, as Ms. Pohanka stated that "382 people went to ski day, but almost 80 people who had signed up did not attend". Despite the small shortage in students, many who did attend looked forward to a nice lunch break, which was at 11:30. Students eagerly downed their delicious meals at the Glacier Creek Lodge, excited to get back on the hill. After plenty more runs, the day came to an end where the groups of 8-10 students rode down the hill for the final run of the day. Everyone was exhausted and most slept on the bus ride home instead of watching whatever 80s movie was playing on the screens in the bus. All in all, it was a great day and the majority of students anticipate next year's Ski Day. Students participated in a fun and memorable day, which strengthened bonds with classmates and friends, and was very enjoyable.
Ski Day was made possible thanks to the hard work and dedication through countless hours of planning by teacher, Ms. Pohanka as well as faculties from different departments in the school such as; transportation, accounting, advisor teachers and head of grades.
Leave a Comment
About the Contributors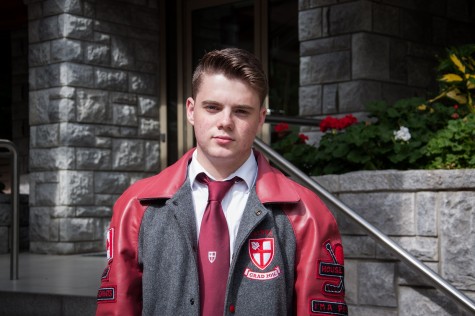 Cole Attisha, Head of Photography
Cole is 17 years old and is in Grade 12 at St. George's School. He has an immense obsession with automobiles, and plays sports such as midget house hockey...
Quinn Cole, Staff Writer
Quinn Cole is currently a Grade 11 student at St. George's School. Since joining the Saints community in grade 8, Quinn has been actively involved in...