Poetry by Heart
On Tuesday night, February 10th, winners in grade level classroom contests assembled together and competed for the best in grade title in the annual Poetry and Voice.
Throughout the night, competitors from each grade recited their poems to judges, being marked on accuracy, tone, diction: a few among many categories. All participants made valiant efforts to impress and entertain both the judges and the audience. Truly, this was a night filed with passion for poetry, spoken arts and literature alike. The grade winners are as listed:
GRADE 8: Hamish Marrisen-Clark, "71. Song for a Silent Treatment"
GRADE 9: Justin Hwang "I am the People, the Mob"
GRADE 10: Sebastian Cannatella, "Dulce et Decorum Est"
GRADE 11: Aanikh Kler, "Constanty Risking Absurdity"
GRADE 12: Nicolas Wicaksono, "Blue Guitar"
BILINGUAL: Philip Menzies, Gr. 12
FRANCOPHONE: Anders Bretsen, Gr. 10
After much consideration, judges finally narrowed down to one winner, Sebastian Cannatella. The school looks forward to in seeing Sebastian's video, which will be sent to the Poetry in Voice committee for his chance to qualify for nationals in Montreal.
All in all, congratulations to the winners listed above and good luck to Sebastian. Thank you to all of the students, teachers and staff without whom this event would not have happened!
Leave a Comment
About the Contributor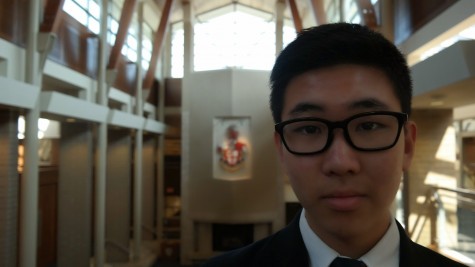 Daniel Yan, Staff Writer
Daniel is currently a grade 10 student at St. George's School. He joined St. George's in grade 7 and is loving every moment of it. He is an active member...