Where the Trail Ends – Discovery Chilcotin Hike
As September came close to an end, the freshly rested and cleaned boys departed into another exciting trip. October has arrived, and as daylight falls short and the days get colder, the Discovery Class awaits for another adventure out in the elements as they prep to journey off into B.C's Northern Chilcotin Mountain Ranges. On Saturday the 27th, the Discovery Class of 2014-15 gathered at the Field House with 19 rested boys at 6:30AM to leave on their 6-day hike in the chilly Chilcotin Mountains. The bus ride took 7 hours as the crew passed by many gas stations and amazing scenery.
Upon arrival, everyone wished goodbyes, half-jokingly said, "Don't die out there" and parted ways immediately. The Discovery Class was divided into 2 groups led by 4 instructors in total. Group A was with Christina Tutsch and Shawn Kangro while Group B was led by Paul Paige and Hubert Wohlgemuth.
Right off the bat, the trip was physically demanding: hiking on different terrains and steep elevations gains and losses. Every day the boys hiked from dawn to nightfall, and once in a while, they stopped have snacks, lunch, water and de-layer breaks. Though they were in the wild, the boys gleaned everyday hand-on skills such as navigation, hypothermia prevention & treatment, first aid, and camp craft: even though they weren't in a classroom.
As time passed, the boys learned more and more skills that would benefit themselves in further trips to come. Not only did the boys get to explore the mountainous region of the Chilcotins, everyone was able to enjoy the views of vast valleys, and take in the breath-taking experience of being on a peak. Throughout the trip, leadership roles were always in play whether if it was just as simple to gathering up the group for meetings or to leading the group through a bushwhack. The main highlight of everybody's trip was navigating on top of windy, dangerous peak ridges. Yutong Zhang noted that he felt as if he were "the king of the world" while Xavi Delgado quoted: "Looking back, the Chilotins was an amazing experience, but when you're hiking up a nearly vertical slope, the only thought in your head is 'don't slip'"
Over the course of the 6 days of hiking, everyone had weaved one connection or another with each other. They had found time to amuse themselves by sharing jokes, playing games and even singing. Anders Bretsen gave the group a slight peek at his vast knowledge of vocabulary while Aidan Stewart demonstrated his extensive hockey knowledge. Meanwhile, Ryan Karimi and Eric Jin Cheng tested out their ability to come up with spontaneous rhymes: "Be bold, find gold", as well as "be bold, don't fold" were constantly heard echoing from the back of the group, along with the occasional goose noise. Will Andrews helped others by using his expert camp craft skills to assist and teach others and Yutong Zhang taught the group that neither size nor speed matters; it's all about the heart and soul that will get you to your goals.
As the journey slowly came to an end, the boys left with smiles on their faces and tales to tell. It's safe to say that friendships were weaved stronger with experiences everyday. Thinking in retrospect, none of the boys couldn't be more prouder to say: "I did that".
Credit: Ryan Karimi and Sean Letvinchuk
Leave a Comment
About the Contributor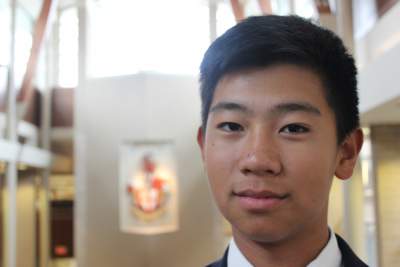 Eric Jin Cheng, Social Media & Photographer, Staff Writer
Eric Jin Cheng is currently a Grade 10 student at Crofton House School in the Discovery Program and is set to graduate in 2017. He joined the Saints community...