Dragons Lair Shows Promise For Students Down The Road
The Dragon's Lair competition is an opportunity for young entrepreneurs to pitch their ideas to knowledgeable dragons and to receive feedback on their business ideas. This year, we had dragons who are big time CEO's in their respective companies and were able to provide insight to the students' small businesses. This years finalist who were fortunate enough to pitch to the dragons were Benny Pulver ('16), Matthew Peretz ('16), Lucas Wong ('16), Nick Wicaksono ('15), and Duncan Stothers ('15).
"There was a pretty big crowd of 200 people. many in the audience were young kids so it looks like this school will be financially successful down the road, if it isn't already." Stated Lucas Wong ('16).
Winner of this years Dragons Lair Duncan Stothers ('15) was in Los Angeles for the Intel science fair and was able to Skype his pitch to the dragons. His product was something that attached to a bike to help protect kids from impact. Lucas Wong ('16) pitched a product that was an all in one faucet that mixed soap with water. Nick Wicaksono ('15) created a website/program similar to netflix which improved the quality of the videos.  Benny Pulver ('16) pitched a hockey program to improve the skills of hockey players by playing a video game And Matthew Peretz ('16) pitched a pair of cool socks. 
Overall, the dragons provided insight to the individual businesses by helping with structuring the future of the business. The dragons were extremely educated in the business sector, their professionalism when dissecting the business allowed all of the contestants to be guided down the correct road in their business.
Lucas also stated "The experience building up to this event was truly amazing. Even though it required an extreme amount of work to get to this point, this night will be something that I will never forget and to be able to share my business with the crowd and the dragons was truly remarkable."
Leave a Comment
About the Contributor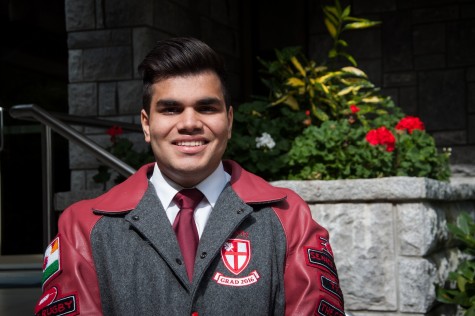 Kaiz Bhatia, Co-Editor In Chief
Kaiz is a grade twelve student at St. George's School and is currently working as the Co-Editor In Chief for The Creed. Kaiz began his time at Saints...