Saint George's Day
VANCOUVER – On April 23, the St. George's School community celebrated Saint George's Day, the feast day of Saint George and the National Day of England. The regular timetable for the school was altered so time could be made for the annual Barbecue Lunch outside. Also, chocolate croissants were distributed during the morning break in celebration for the event. Rugby games were on the school fields and the CAIS Student Leadership Conference's delegates were also able to join the community.
After a half day of classes, students headed towards the field for a barbecue lunch. They were able to catch some rugby actions and socialize with visiting CAIS delegates. Afterwards, a full school assembly was held at 2pm to commemorate St. George's Day and also to officially commence the CAIS Student Leadership Conference.
Steve Shi ('16) says, "On St. George's Day, the school exhibited its brilliant cohesive community spirit. Ever since I came to this school, I was never able to comprehend how a diverse group of people were able to show such camaraderie. I was just glad that I was able to just relax, socialize with my fellow classmates, and enjoy the day's events."
Since the school's founding in 1930, St. George's School has supported and educated boys to achieve fulfilling lives, before and after graduation, to be lifelong learners, and to engage meaningfully in their communities. As Andrew Zhu ('16) would describe it, "the symbol of St. George signifies the school motto; without fear or favour. In other words, be yourself."
Leave a Comment
About the Contributor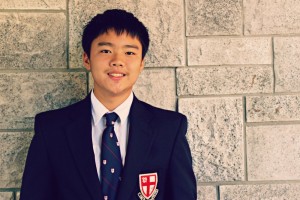 David Yang, Student Life Editor
David is a Grade 10 student at St. George's School. Though originally born in Shanghai, he moved to Canada at the age of five. As a 10th grader in his...