The Razors Come Out as Movember Ends
Throughout the month of November, people around the world including our very own St. George's students and staff took part in what is known as 'Movember.' Movember is an annual, month long event involving the growing of moustaches to raise awareness of prostate cancer and other male cancer and associated charities. Movember was created in Australia in 2003 by thirty 'Mo Bros' and has increased to four million in 2013.
As all of you know, today is December 1st. That means that Movember officially came to an abrupt end yesterday. Many faces are likely feeling a little bit exposed, after shaving off their prized moustaches they've dedicating a month perfecting.
"Even though I can't grow a moustache myself, I really enjoyed looking around and noticing all the different moustaches men and even women are growing. It really showed the uniqueness and popularity Movember is creating." Said Nick Maryn, a grade 11 student at St. George's.
This year in Canada alone, the Movember campaign raised almost $29 million, which is the biggest per capita amount raised so far.
"This was my 2nd year participating in Movember, and I absolutely love it. Just the fact that you're helping to change men's health by doing something fun really makes me enjoy it that much more. Hopefully we can put an end to prostate cancer and other cancers in the near future." Said Samm Fulton, another grade 11 St. George's student participating in Movember.
Even though Movember has come to an end, the spirit it has left behind is here to stay until next year. The impact Movember leaves worldwide is remarkable, as men and women cannot wait until the following year to grow out their staches' and raise awareness.
Leave a Comment
About the Contributor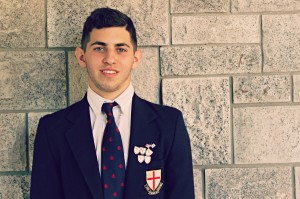 Jayden Bloom, Video Editer
Jayden is currently a Grade 11 student at St. George's and is a Staff Writer for The Creed. His interests mainly lie in Athletics, but also Music. Jayden...