Dunbar Haunted House 'rattles' boarders
On the foggy evening of October 21st, one-third of the St. George's School Boarding community paid their annual visit to the Dunbar Haunted House. The students ventured into the spine-chilling Haunted House with great confidence and assertiveness, but left feeling ruffled and pleasantly spooked.
After surrendering the safety and comfort of the school bus, students were left with no choice but to enter the haunted house. A few actors came out to greet and creep up on impending visitors. Many boarders felt they had underestimated the venue, but little did they know of the alarming horrors within the concrete walls.
This year's program focused on the horrific moments in ancient, medieval, and modern history. Every corridor had a grotesque figure, including pale babies, corpses, pirates, and witches. Visitors also had inadequate space, leaving them subject to the discretion of the haunted house actors. Jason Gao from Grade 10 felt he "was really a victim of the torture in the haunted house."
Various boarding staff believe the visit to the Dunbar Haunted House left boarders with a renewed sense of camaraderie for the school year. The immense fear of the haunted house left students to count on each other for their safety. Ms. Jacquelyn Bellissimo applauded the Dunbar Haunted House for "bringing the students together and building companionship. When everyone is experiencing the same fears and horror, it is easy for them to put their pressure onto another person."
The Dunbar Haunted House has become, for Vancouverites, an annual destination for horror fans. This year will be its last serving of shivers to the Vancouver community. Brad Leith, the director of the Haunted House, says this year "will be its last." The organization began as a "small project to entertain kids, but quickly became a local attraction." What began as a one-man show grew to a 200-person program. Their efforts have raised over $300,000 for local charities over its ten-year run. (CBC)
Leave a Comment
About the Contributor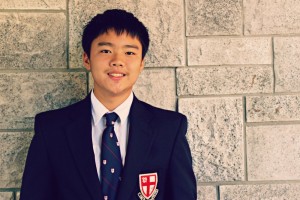 David Yang, Student Life Editor
David is a Grade 10 student at St. George's School. Though originally born in Shanghai, he moved to Canada at the age of five. As a 10th grader in his...