Boarding community serves up a 'tasty' formal dinner
On Wednesday October 16, the boarding community held their second formal dinner at the Senior School. The event was attended by Dr. Tom Matthews, Mr. Brian Lee, Matthew Boroditsky, Alastair Pitts, and the Boarding House staff and students. There were also several guests, including Evan Johnson from Grade 10, and Dr. Phil Webster and his family. Mr. Hesketh applauds the kitchen staff for providing a "wonderful meal of lamb with vegetables and salads." For dessert, students were invited to the 'smore's bar' to roast up some marshmallows and make themselves a tasty treat. "The food was absolutely delicious", declared Evan.
After dinner was served, the focus of night quickly shifted to weekend activities. Mr. Alan Hesketh, the director of Residential Life, contends the weekends are "regularly filled with entertaining activities." Students have an abundance of opportunities to experience the city. Mr. Hesketh claims in some cases it is a tradition within the city and "[people] just have to go since [they] live in Vancouver."Boarders have already been treated to professional soccer, paintball, and many more exhilarating activities.
Leave a Comment
About the Contributor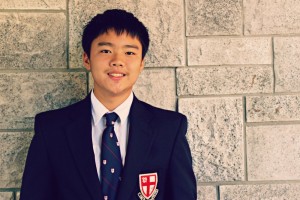 David Yang, Student Life Editor
David is a Grade 10 student at St. George's School. Though originally born in Shanghai, he moved to Canada at the age of five. As a 10th grader in his...