New Club Merges Debate and Model UN
Saints Conference contains the Debate, Model UN, and Foreign Policy Clubs
Update: "Saints Conference" is now the new name for the International Relations Club.
Saints Conference Club (formerly 'International Relations Club') held its inaugural meeting on Friday, September 21st, bringing in the Debating, Model UN, and Foreign Policy Clubs under one banner. Tony Chen, the student leader of the club, began talks with sponsor teachers Sarah McLean and Sarah Coates as early as last year to plan the merger.
"Looking at the demographic that participates in something like MUN, more often than not, they participate in debate as well," Chen said. "Why split them up?"
While the planning began in May last year, their 'signup' took place the Wednesday before their first formal meeting, and included registrations for upcoming Model UN and Debate tournaments. The crowd that showed up to the meeting included both seasoned debate veterans and untried Model UN aspirants.
The club's first actual meeting on Friday courted to a different demographic, and a group of fifteen relatively new enthusiasts showed up. According to Chen, the first meeting was an "experimental session, in a way."
The club leaders discovered many problems, like how to plan their meeting times in accordance to everyone's commitments and schedules. "Lunch sessions don't work too well," said Kieran Halliday, the student leader of the Foreign Policy Club. "There are too many people involved with other clubs and aspects of school life."
The club eventually switched to its current Wednesday and Thursday schedules, using a similar timetable from last year as a reference.
The Debate Club will begin to prepare for its UBC tournament while the Model UN club begins sign up for local and international Model UNs. Signup has begun for Regional High School Model United Nations, which is taking place in San Francisco, and delegate registration has begun for Connect Model United Nations, which is taking place in Downtown Vancouver.
The Model UN Club will be attending many other conferences, namely National High School Model UN in New York, as well as Vancouver Model UN and Canadian High Schools Model UN in downtown Vancouver.
The Foreign Policy Club is slightly different: It won't offer any trips abroad. Instead, it will host club sessions to talk and debate about current events like the US Government Shutdown and the events in Syria. It will be offered as a forum for the slightly more experienced students in the Saints Conference Club.
The Saints Conference Club is run with Tony Chen as student leader, with Alan Wong directing the Debate Club, Spencer Quong the Model UN club, and Kieran Halliday the Foreign Policy Club.
The club is still looking for student leaders, as well as more members. Kieran and Tony say that they "encourage anyone interested to show up to the meetings and sign up for conferences and tournaments."
Leave a Comment
About the Contributor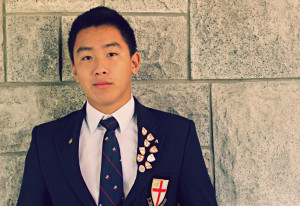 Kevin Lee, Editor-in-Chief
Kevin is a senior student at St. George's School. He has an eclectic variety of interests ranging from political science to graphic design. At school,...