Saints Falls Short at the ISA Golf Tournament
On April 22nd and April 23rd, the St. George's golf team competed in the Independent Schools Association (ISA) golf tournament held at Cordova Bay Golf Course and Pacific Highlands Golf Course. The boys faced tough competition and came home with a 2nd place finish.
The ISA is established in the 1900s and now consists of 26 schools in British Columbia – among them, St. George's, Collingwood, Mulgrave, and many more. The ISA golf tournament is a regional competition that occurs annually and provides a preview for the BC Provincial Championships in June as most of the competitors are from the Lower Mainland and interior British Columbia. In contrast to previous years, this year's tournament features two rounds of competitive play over the course of two days: the tournament has traditionally been a one-day event.
The boys all had high expectations – after a narrow loss for 2nd place last year, they are all driven to bring home the trophy. Day one of the competition was held at Cordova Bay, a "golf course with character" that brings unforgettable scenery and a difficult test of one's game. Before teeing off, head coach Mr. Proznick delivered his motivational speech and stressed the importance of playing our own game: "it is us against the golf course today." Team members struggled on the especially-difficult opening holes, but everyone fought hard and finished strong. Saints finished the day with a team score of 310, which places them at 2nd, six shots behind Collingwood.
Day two of the tournament was at Pacific Highlands; players had to overcome steep elevation changes and swirling winds which invites a big comeback. However, Collingwood caught fire and stormed out in front with a team score of 304. Saints did not keep up and had to settle once again for a 2nd place finish over Shawinigan Lake. St. George's was led by Riley Lai and myself Tony Li, with scores of 74-76 and 76-77, respectively. Finn Lawlor posted a pair of 78's and fellow Grade 12 Matthew Yen carded scores of 82-86. Ben Kang of Grade 8 finished the tournament with 87-92.
Saints will travel to Washington next week for the Bill Egbers Memorial Tournament, followed closely by the pivotal Lower Mainland Tournament on May 22nd.
Photo Gallery to come.
Leave a Comment
About the Writer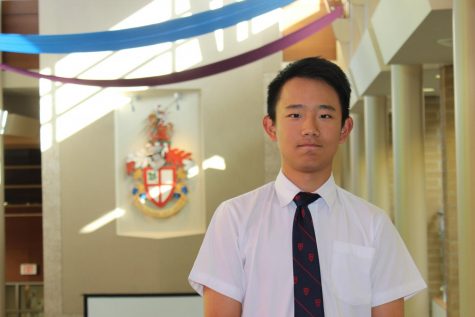 Tony Li, Staff Writer
Tony is a Grade 10 student who joined the Saints family in Grade 8. As a student-athlete with an immense passion for the game of golf, Tony can often be...