Varsity Basketball: Season in Review
On Saturday March 10th the Varsity basketball team played their last game of the 2017/2018 season. For the six seniors Alex Ference, Chris King, Louis Sujir, Sam Sirlin, Noah Strang and Will Lin it was their last ever high school basketball game. The boys lost the game to Lord Tweedsmuir and finished provincials in a disappointing tenth place. The Saints finished the season with a 15-9 record
In an up and down season the Saints had impressive wins over AAAA fifth place VC, AAA second place Byrne Creek, AAAA first place Burnaby South, AAAA ninth place Lord Tweedsmuir, as well as over very talented Handsworth and Kitsilano teams. As a result of unfavourable seeding Saints drew defending champs Walnut Grove in the first round of provincials and lost a barn burner as victims to one of the most impressive fourth quarter performances in tournament history by James Woods. Woods scored 21 of his game high 44 points in the 4th quarter including 12 in the final three minutes.
Over the season grade 11 guard Jerric Palma lead the team in scoring at 26.3 points per game including two 40 plus point performances. Grade 12 Forward Louis Sujir lead the team in rebounding with 11 per game and assists with 4.5. Sujir had the Saints only triple double on the year with 19 points 10 rebounds and 12 assists against Kitsilano.
Despite graduating 4 starters and 2 role players the Saints can look forward to having a very solid team next year lead by Jerric Palma and Bill Lin. They will be joined by the grade 10 Provincial MVP Jaxon Cohee and All Stars Sam Wooder and Ao Ma. Saints last Varsity provincial title was won in 2009 but next year Saints has a shot to do it all again.
Leave a Comment
About the Contributor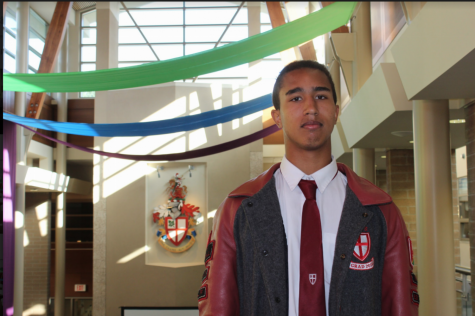 Louis Sujir, The Sports Writer
Louis Sujir is a grade 12 student at St. George's School. He has been a student at St. George's for 12 years. He is a member of the Varsity Basketball...