Varsity Soccer Advances to Provincials
Varsity Soccer has advanced to Provincials with a few big wins in the lower mainland finals. After beating Kitsilano in a very close semi-final, St Georges destroyed McMath 5-0 in the lower mainland, guaranteeing themselves a high seed for the Provincial tournament. After a heart-breaking loss in the semi-finals at the CAIS tournament at home, co-captains Mateo Donnelly and Tyler Gilman rallied the team before entering a Lower Mainland tournament filled with tough teams. To win this tournament would mean a better chance at Provincials, and to lose could mean not making it at all.
On November 7th the team travelled to Point Grey School, where they faced off against a Kitsilano team that had been very strong all season. These two teams had been highly regarded all season, and the winner was expected to beat McMath in the finals. The game started off back and forth, while both teams had chances and both goalies made important saves. Fans knew from the start that they were in for a good one.
At halftime the score remained tied, but St. George's was beginning to put the pressure on. Peiyu Song, a grade 11 winger, had a beautiful run, but could not convert on the opportunity. The deadlock was finally broken when Argentinan superstar Mateo Donnelly hit his shot off the post and in, and from that point on the stout Saint defence held on to secure the Victory.
Saints would easily win the finals of the lower mainland, as they defeated McMath 5-0, behind a big goal from Daniel Teperson. The team hopes to continue this winning streak, and win the Provincial finals.
Leave a Comment
About the Contributors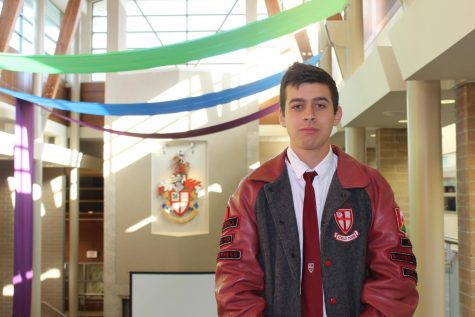 Noah Strang, Editor-in-Chief
Noah Strang is currently a grade 12 student at St. George's School. Noah joined the school in his grade 6 year, and has been a participating student...