Saints Domination in Victoria
Victoria, September 15/16- Both the St. George's First and Second XI soccer teams took part in the annual ISABC Tournaments, held at St. Michael's University School (SMUS) and Glenlyon Norfolk School (GNS). Both teams were playing in their first tournament of the season and were hoping to get off to fast starts.
The First XI started off their tournament in winning fashion with dominant wins over Shawnigan and Aberdeen. The demolition of Aberdeen was highlighted by a first half hat-trick from Jason Forbes. The First XI finished their round robin play with a 0-0 draw against SMUS and were through to the final with 7 points in 3 matches.
The Second XI played three games in a round robin against Southridge, St. John's, and SMUS B. The team started off with a crucial 2-1 win over Southridge. Following the Southridge match, the Second XI took on St. John's. The game was an intense affair which resulted in a 2-2 scoreline. The final game of the round robin was for all the marbles. A win would secure the championship in the B division for the Second XI. They were taking on SMUS B, who had struggled earlier in the tournament. The final was 3-0 for Saints, and they lifted the trophy.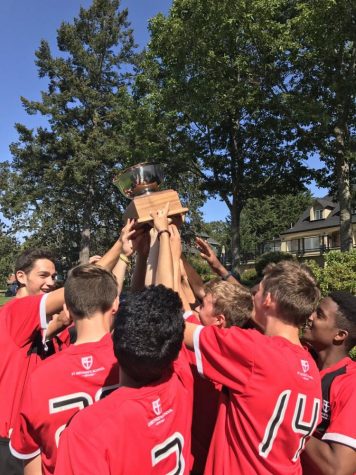 Second XI midfielder Joshua Brown had some comedic comments following the tournament, "The tournament was the highlight of our season. The boys . . . were rewarded substantially, and all who partook had a thoroughly uplifting and emotional experience. We dedicate this win to our coach, Mr. Tran, who unfortunately could not be with us on this journey but was remembered in our hearts." Inspiring words from a "truly below-average player" as he described himself.
In the Group A final, the First XI were taking on Brentwood. Winger Peiyu Song had some comments on the Brentwood team, "We knew we could beat them, but it was going to be tight, every final is." Saints started the scoring in the first half before adding a second goal late on to win 2-0. This was Saint's second year in a row winning the ISABC Tournament and will hope to continue their success through to Nationals.
It was a great weekend for St. George's as both teams won their tournaments. Congratulations to all the players and coaches who helped these teams to their success.
Leave a Comment
About the Contributor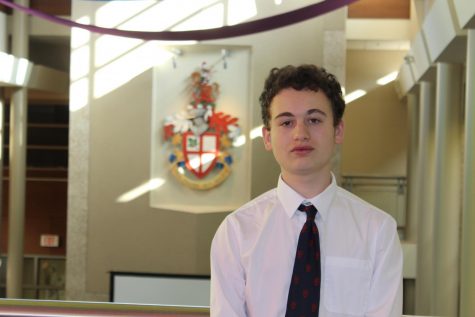 Liam Solomon, Writer
Liam Solomon is a lifer at St. George's. He has thoroughly enjoyed his first ten years at St. George's and looks forward to diving into his 11th year....