CAIS Rugby Championship
On Wednesday, April 19th, the senior boy's rugby team departed from YVR airport. Their destination: Ottawa, to play in the CAIS national championship. The team arrived in Ottawa at 6:00pm and immediately went to their first practice. On Friday the boys played their first game against Sacred Heart School. Being a little bit jet-lagged, Saints had a rocky start, but they were eventually able to gather themselves and come away with a 40-0 nothing win. A few hours later, St. Georges were set to play Upper Canada College. UCC was a tough team, but Saints' played even better, with the shut-out win: 34-0. The next day Saints' only played one game. They faced Holy Trinity College and with much ease were able to pull away with the W. After winning three games, the St. George's team were in to the finals against St. Andrews College. Flashback to earlier in the year where the Saints' soccer team played SAC in the finals of CAIS and had a devastating loss of 3-2. Filled with nervous excitement the Saints' rugby team stepped out on to the field at Ashbury College. It was a battle right from the beginning with SAC scoring an early penalty goal. But Saint's scrambled back when Noah King scored the first try. The half ended at the score of 5-8 for SAC. For the majority of the second half it was a stalemate between the two teams. One try was scored for each team, leaving the score at 13-12 for SAC with one last play. Jack Scher, with a penalty awarded to Saints, stepped up and hit the winning penalty kick. The whole Saint's team surrounded them as they celebrated their CAIS championship.
Leave a Comment
About the Contributor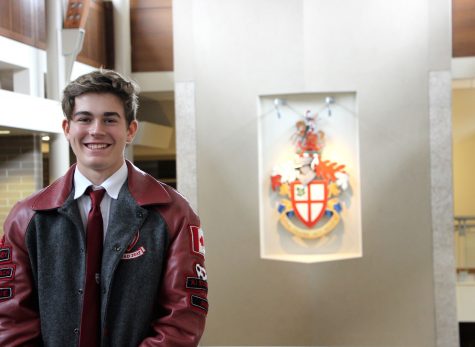 Adam Radcliffe, Co-Editor in Chief
Adam Radcliffe is a grade 12 student at St. George's. Adam joined St. George's in the Grade 8. Since then, he has been an avid member in many different...